Twain Harte Lake Dam Repairs Coming Soon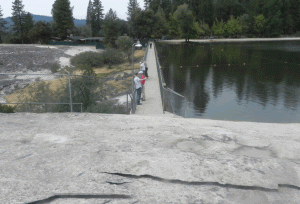 Twain Harte Lake To The Right and Draining Water To The Left

View Photos
Twain Harte, CA – Fracturing and exfoliating since last August, "The Rock" granite formation adjacent to Twain Harte Lake dam excited geologists and rock hounds and worried owners of the privately held lake until this week.
According to Lynn Crook, president of Twain Harte Lake Association Board of Directors, its members are now hearing the happy news that the necessary repairs to restore the area are both affordable and on-track for completion by early summer.
As soon as the final design comes back from the Division of Safety of Dams (DSOD), a division of the Dept. of Water Resources, the board will seek bids to execute the fixes, Crook states, with preliminary dam work beginning in March and April. In the design, the dam will no longer center near where the rock fractured. "We [the membership] are really encouraged," Crook says.  "This [the exfoliating] is supposedly a once in 10,000-year episode. No one can say it won't happen [again]…but they are taking precautions in the fix that they are having us do, that, should it happen again, the dam should not be affected."
She confides, "It is not a very complicated fix. [Contractors] will be working on the actual abutment where the dam meets the rock, as far as reinforcing it and pouring new cement, and…also be working on some of the rock repair that needs to happen." While mum on the potential cost range for the fix, Crook confirms the membership will be picking up the entire tab, adding, "I think people are going to be surprised that it is less than they are suspecting." At a members-only meeting on March 28, lake owners will be able to ask questions and receive detailed project information from engineers in attendance.
Crook, who wants to get the word out so that summer visitors can make their recreation plans, notes that repairs should be complete well in time for the Twain Harte Fourth of July Parade. "We are conservatively projecting that we will be open by July 1," she says. "We will be celebrating greatly if we open before that — it is a possibility — but we are shooting for July 1 at this point."
It was last August when the rock formation at the lake abruptly began shifting and cracking, the shedding, flaking activities accompanied at times by loud, explosive pops in the adjacent bedrock. Although drained each year at the end of the recreation season, officials required the lake emptied for assessment. At the time, the lake's future was uncertain as it was unknown if viable repairs might be possible, and what they might cost.