Twain Harte Lake To Open June 27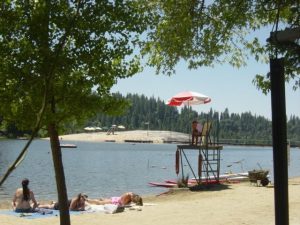 Twain Harte Lake

View Photos
Twain Harte, CA — Now that dam repairs are complete and Twain Harte Lake is nearing its summer fill level, its owners have given local businesses quiet notice that the private lake will soon officially open for the season.
As of today, "[The lake] is probably about two feet, 20 inches from being full," shares Snack Shack owner Tony Taylor. "It really invigorates the whole community," he adds, noting that word of the lake's official Saturday, June 27 grand opening is rapidly spreading, greatly abetted by social media. Lake owners, the Twain Harte Lake Association, which Clarke Broadcasting contacted for an official comment, did not respond before press time. "My wife and I are thrilled that the lake is even opening this year, because of all the problems associated with getting the water and what have you," Taylor continues. "That said, as business owners, the fact that we're getting open anytime in June is a positive for us. I'm thrilled about it. The bulk of our business happens in July."
In addition to dam repairs that became necessary this spring due to exfoliation and cracking of the adjacent granite rock last summer, a lackluster rainy season threatened to leave lake refilling efforts high and dry, as the association's request for a supplemental water allotment from Tuolumne Utilities District (TUD) was unable to be granted. Fortunately, a bit of unexpected late May precipitation and the delivery of a ditch water allotment from TUD both came through.
Now, Kimberly Darr, owner of Twain Harte Vacation Rentals, who says she does not, herself, have a lake membership, states that she "gets" how some might not care, one way or the other, about the success of a private lake. However, "So much of the economy is tied to what that little lake brings in," she points out. "It really is the heart of Twain Harte." Rentals, she reports, have been recently ticking up with the lake levels. "I think people were just waiting for the announcement," she figures. Although Darr estimates that perhaps a month of potential seasonal business was lost as uncertainties about the lake opening loomed, "We're doing everything we can to recapture what we lost," she promises.
Says Twain Harte Chamber of Commerce President Ronda Bailey, the lake's impending opening comes just in time for the town's big Fourth of July Kick off to the summer tourist season. "There's a lot of anxious people out there," she laughs, adding that plans are on, as normal, for the July Fourth events at Rotary Park to begin that morning at 9, followed by a parade in downtown Twain Harte at noon.