Columbia Elementary

Columbia Elementary is a K-8 rural California public school district in Tuolumne County. All nine public elementary schools in Tuolumne County are separate districts except the Big Oak Flat School District. Columbia Elementary students are in the Sonora High School District. Details about the town of Columbia, CA are here.
The Columbia Elementary school district boundary includes Yankee Hill and homes off of Yankee Hill Road and the west side of Big Hill road toward Columbia College with the homes at the top and going down Big Hill Road and Telegraph Hill in the very small Belleview School District with all of Ceder Ridge. Italian Bar Road homes are in the Columbia School District although that very rural off-the-grid area is split with the equally rural Jupiter area being in the Twain Harte School District.
Properties bordering New Melones are in the Columbia School District despite having a Jamestown zip code, 95327, and being located closer to the Jamestown School. Across the Tuolumne border from the Columbia District is Michelson Elementary in the Vallecito Union School District in Calaveras County. Information from Columbia Elementary School is here. View school delay information on the School Delays Page.
Notable Columbia District Boundaries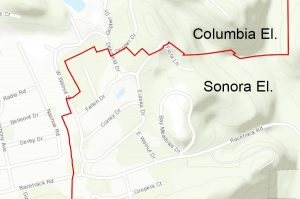 The Sonora El boundary goes up Racetrack Road but only to West Walnut Street, half of Gopher Drive is officially in Columbia El. The half of West Walnut Street toward Racetrack Road is in Sonora El with Quail Hollow Court, East Walnut Drive and Eureka Drive. All the homes off of Leland Drive are Sonora El but only the homes further away from Racetrack road are in Sonora El, the homes off Gibbs Drive near Racetrack Road are Columbia El. The homes off Rough and Ready Trail are in Columbia El.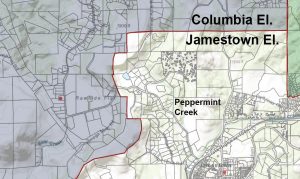 Off Rawhide Road all the Peppermint Creek area homes are in Jamestown School District but the homes down in the valley and the big turn of Rawhide Road in the Columbia Elementary School District with the homes bordering New Melones in French Flat and all of Tuttletown off of Highway 49 to the county border which is the Stanislaus River and an arm of the New Melones Lake created by the Dam.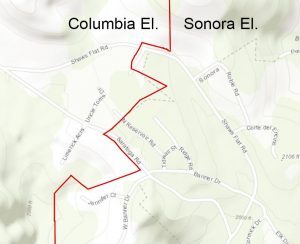 North of the city of Sonora the Columbia/Sonora District boundary cuts through Saratoga Acres following the City of Sonora Boundry.
Around Highway 49, Browns Flat is in the Sonora District, but Shaws Flat, Mormon Creek, and homes off of Parrotts Ferry Road and Sawmill Flat Road are in the Columbia district.