Pinecrest Lake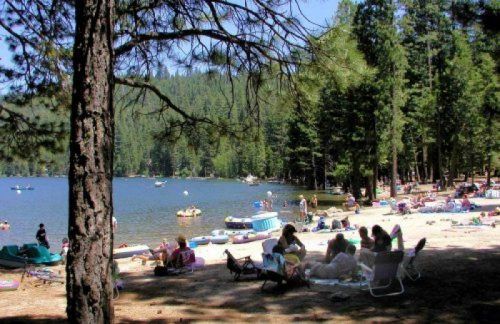 Pinecrest Lake offers camping, swimming and many water activities in the summer and also movies at Pinecrest Theater. For more information check out the Pinecrest community page. Pinecrest is just 30 miles east of Sonora on highway 108. There are many charming vacation cabins in the area. Dogs are allowed in the campground but not in the day use area. Dogs must be on a leash and attended at all times. There is a webcam near Pinecrest at Dodge Ridge other local webcams are listed here.
Winter
Pinecrest is at 5,600 feet in elevation so it has a little snow all winter long, winter activities include making snowmen and sledding after the lake has mostly drained. Dodge ridge is just up the hill, check for more about it and other ski resorts in the area go to the ski page in the destination guide. For new snow and snow conditions in the winter look at the ski report page.
Summer
When the lake is fullest the beach area is in the pine trees. Give the hot summer sun a few weeks and the water level retreats revealing plenty of sand to play in.
The campground adjacent to the lake is under the white fir, cedar, and sugar pine trees. From May through October camp sites can be reserved, most weekends are full a year in advance. Two-hundred campsites are available with the premium spots near the shore of Pinecrest Lake. Meadowview Campground is a short drive or longer walk away with another 100 campsites. For more camping in the Mother Lode area visit camping in the recreation section.Wildflowers come out in mid-July when the reservoir is fulled to the brim. The water is managed by PG&E and Tuolumne Utilities District (TUD) who fill it to create a perfect summer time recreation area.

From May through October camp sites can be reserved, most weekends are full a year in advance. 200 campsites are available with the premium spots near the shore of Pinecrest Lake. Maximum length of stay is 14 days only 6 people per site persons per site. For reservations call the National Recreation Reservation Service at 877-444-6777 or recreation.gov
Meadowview Campground is also close by with 100 more campsites off Dodge Ridge Road. There more information about camping in the Stanislaus National Forest page here.
Pinecrest Lake Resort Marina
Is open for all your boating needs from late April to early October. Rental boats include aluminum fishing boats with outboard motor, paddle boats, kayaks, sailboats and "party boats" (10 or 15 passenger pontoon boats) Kayaks are a wonderful quiet way to see the lake, sailboats are even better for getting some wind in your hair. For the more adventuresome windsurfing is possible- but you have to bring your own gear and do it after July first because the water is very cold!
If your boat is under eighteen feet you can dock it at the marina. All boats are required to register with marina office and have valid registration.

If fishing is your way to relax, this lake should be your destination. Patient anglers who get up with in the early hours with the sun will be sure to catch their limit of trout and take in appealing vistas. Well downstream from Pinecrest, Lyons Dam is also open to fishing and swimming is not allowed.

The U.S. Forest Service's Summit Ranger District station, is a mile from Pinecrest Lake. You can visit them and get information about a little trail across the street that winds through a few bark teepees. There is a four mile winding trail around Pinecrest. Considered a moderate hike plan to be gone for 2 hours. Look for all the wildlife in the area and be prepared for changing mountain weather. Branching off of the lake trail are trails to Cleo's Bath and Catfish lake.
The trail to Catfish lake, once home to catfish, is past the dam. It takes about 45 minutes to an hour from the turn off at the lake trail. Cleo's Bath is a series of natural pools along the river which feeds Pinecrest Lake. There is a sign directing you to Cleo's bath from the lake trail but the hike is strenuous, you need good hiking shoes and be able to climb over rocks. For more about the town and history of Pinecrest visit the community pages. Note: There are no facilities on the lake trail or the trail to Cleo's Bath.
If you want to stay in the Mother Lode take a look our list of places to stay.
Planning a wedding, conference or other event? Take a look our list of places to host your event.
Tell us about your experience at this place! Contact Us