McClintock Helps Mi-Wuk Veteran Get Long Awaited Honor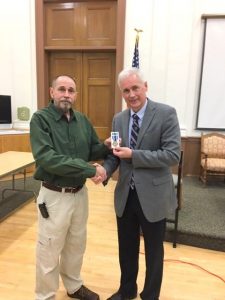 Alan Leeman of Mi-Wuk Village receives Humanitarian Award from Congressman Tom McClintock Oct 11 2018

View Photos
Sonora, CA – A local Army veteran finally received his long-promised service medal for dangerous hazmat work he helped perform nearly a half-century ago.
Alan Leeman of Mi-Wuk Village received the Humanitarian Service Medal last evening from Mother Lode lawmaker U.S. Congressman Tom McClintock, who was on hand to personally present it to him during a ceremony in the Tuolumne County Board of Supervisors chambers.
Leeman, who participated in the Enewetak Atoll Cleanup of 43 atomic tests that occurred within the Marshall Islands, never received the medal, which he and thousands of other soldiers were supposed to get for their service during that assignment.
McClintock's office states that it helped him obtain the honor and assistance with his medical claim for radiation exposure he suffered during the radioactive waste removal from experiments that occurred there between 1948 and 1958. According to reports, many of the soldiers involved in the cleanup effort did not have adequate protective gear and were exposed to high levels of radiation that later led to debilitating health problems associated with radiation exposure such as cancer and brittle bones.