Update: Detwiler Fire's Acreage Grows, Containment Holds At 65 Percent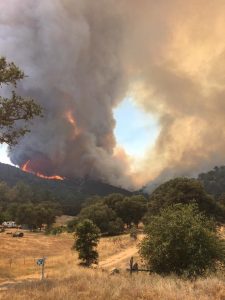 Detwiler Fire

View Photos
Update at 7 pm: The acreage has grown by 1,100 acres to 80,000 on the Detwiler Fire but the containment remains at 65 percent.
A positive sign, the number of fire personnel has decreased from 5,128 to 4,914. The Mariposa County Sheriff's Office reports that a multi-agency assistance center located at Mariposa High School on Old Highway North will open for a second day to help those impacted by the blaze. The hours of operation will be from 9 a.m. to 7 p.m. on Wednesday. (Additional fire information including lifted evacuations and road openings for Tuesday can be viewed below.)
Update at 2:13pm: The Mariposa County Sheriff's Office is allowing more evacuees to return to their homes while the Sonora fairgrounds continues to provide shelter support.
Beginning in the noon hour, officials lifted the evacuation order for the area of Lower Dogtown Road between J132 and Wagner Road. The area remains under an evacuation advisory. and Wagner Road remains closed at this time. A few minutes ahead of that, evacuation advisories were lifted for Southern Mariposa County. With regard to the latter notification, sheriff's officials stress that all those traveling in and around south county should use extreme caution due to the many fire crews still working along the roadways, which is additionally making vehicle traffic crowded at times.
Sonora's Mother Lode Fairgrounds continues to remain open in support of North Mariposa County residents as well as because of concerns about wind patterns and low humidity in the weather forecast over the next few days, according to Fair CEO Ken Alstott, who met with Red Cross officials this afternoon. He says between the campgrounds and Red Cross shelter building onsite, the fairgrounds is currently housing about 30 people.
Speaking on behalf of the Red Cross, Bill Slotter, a government operations liaison for the organization, dryly states, "We are continuing to continue here in Sonora." He also emphasizes what he calls an "amazing" amount of community support for the local shelter, which has helped operations remain in good shape, supplies-wise. Too, he adds, "The Lions Club his doing a bang-up job of running the kitchen."
Current Red Cross figures indicate that during the course of its Detwiler Fire response to date, it has assisted with 960 shelter stays for families, along with serving 13,000 meals and snacks; facilitating more than 450 health contacts and distributing more than 2,000 relief items.
Update at 11:13am: A multi-agency assistance center is now in operation to help all those impacted by the Detwiler Fire.
The center, open today until 7 p.m, is located at Mariposa High School (5074 Old Highway North). Among the center's provisions are food assistance, disaster recovery support, human services and counseling services. (See images in the image box slideshow.)
State and county agencies on-site include Public/Environmental Health, the Social Security Administration, DMV, Agricultural Commission, and State Contractor's Licensing Board. Childcare is also available at the center. Due to space constraints, donated goods are not being accepted at this site. For more details, call 209 966-2000.
In other news, Highway 49 North is now open under traffic controls from one mile north of Bear Valley Road to Highway 132.
Red Cross officials state those displaced by the fire now staying in Oakhurst are being transitioned closer to their community to the Mariposa Elementary School shelter location.
"We know that being closer to their homes will help them in their recovery," states Anne Reynolds, American Red Cross Pacific Division Disaster Director. "We are working closely with our government partners and other agencies to make this happen over the next 24 hours. Red Cross volunteers are working with those families to develop a recovery plan to help them as they return to their communities."
Original Post at 7:31am: Mariposa, CA — The Detwiler is now up to 78,900 acres and 65-percent containment.
5,128 firefighters are assigned to the incident this morning. There are 483 engines and 116 total crews. CAL reports the fire showed signs of a flare up in the four o'clock hour yesterday afternoon, during which CAL Fire called upon additional units, including air resources. CAL Fire officials maintain the flare up was contained within a contingency area completely surrounded by dozer-cut fire lines down to bare-mineral soil.
Firefighters are witnessing better humidity recoveries at night, which is helping the containment efforts. Daytime temperatures have also dropped back down into the nineties. Additional evacuated areas will be allowed to return later today.
The investigation into the cause of the fire is still ongoing.
Evacuation Information:
Evacuation Orders
All of Schilling Rd * ALL feeder roads Dogtown Rd. from Greeley Hill Rd to Bowers Cave * ALL of Texas Hill Rd * Greeley Hill Rd. from Dogtown Rd. (Coulterville) to Dogtown Rd. near Bowers Cave and all side roads to the South * Bull Creek Rd from Greeley Hill Rd to the Merced River * Old Yosemite Rd to the Five Corners intersection
Evacuation Advisories South County Mariposa. – Mt. Bullion Cuttoff Rd- From Hwy 140 to 72, Princeton Rd- From 49N to 72b,River Road- From Briceburg to North Fork Falls, Hwy 49-S from Ben Hur Rd to Indian Peak Rd and ALL feeder roads, Ashworth to Silver Lane and ALL feeder roads, Silver Bar to Ashworth and ALL feeder roads, Indian Peak to Oak Grove Rd and ALL feeder roads, Oak Grove Rd from Miwuk Rd to Oak Grove School Rd and ALL feeder roads, Detwiler Rd, Hunters Valley Rd, Hunters Valley Access Rd, Cotton Greet Rd, Allred Rd from 49S to Morningstar Lane and ALL feeder roads, Morningstar Lane to Carlton Rd and ALL feeder roads, Carlton Rd to Silva Rd and ALL feeder roads, Silva Rd to Hwy 49 South and ALL feeder roads, Bear Valley Rd- All homes, Hornitos Town Area, HWY 140 from Briceburg to the town area of Mariposa including all roads to the west, Colorado Rd from HWY 140 to Rancheria Creek Rd., Oak Rd and Yosemite Oak Rd and all of Mariposa Town, 49-N from Mariposa to Fremont Fort, Mt Bullion Cuttoff Rd-from 49-N to 72b, School Ln, Rd 72A, Princeton Rd-from 49-N to 72b, Pendola Gardens, Old Toll, Corbett Creek Rd, Mt. Ophir, Hornitos Rd, Mt Gaines, No.9 Rd and Ben Hur Rd from Hwy 49 S. to Buckeye, French Camp Rd, Fournier Rd, Mykleoaks Subdivision, W.Whitlock from 49-N to E. Whitlock and all side roads, HWY 140 from Hornitos Rd to Elizabeth Ln. Old HWY South from 49 S to Totokon, Old HWY South from 49 from Guadalupe Fire Rd to School Lane, HWY 140 from the town of Mariposa to Hornitos Rd and all side roads. E. Whitlock from Hwy 140 to W. Whitlock and all side roads. Colorado Rd and all side roads, Sherlock Rd and all side roads.
Additional Evacuation Advisories- HWY 49N from Oakridge Rd. to the County Line. All roads north of Greeley Hill Rd. to the Mariposa County line, to include Dexter Rd., Cueno Rd., Smith Station Rd. to HWY 120 and ALL feeder roads, Buck Meadows Rd. north of Greeley Hill Rd. to HWY 120, Old Yosemite Rd and Bull Creek Rd. The town of Coulterville from Hwy 49N to Lower Dogtown Rd.
The Detwiler Fire Started on Sunday, July 16th just before 4PM, no cause has been determined yet.