Mother Lode Drift Smoke Triggers Health Concerns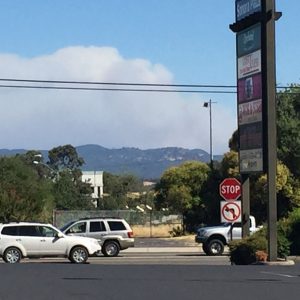 Detwiler Fire smoke seen from Mono Way and Greenley-Road

View Photos
Sonora, CA — Tuolumne County's Chief Health Officer Dr. Liza Ortiz has released advisory information in the wake of wildfires burning nearby impacting air quality.
She states that local air quality conditions and impacts now being felt are forecast to be similar through the midweek and to expect conditions to be worse in the mornings while they should improve with winds from the west as the day goes on. She adds that as it is quite possible that the air quality may reach levels that are unhealthy, Tuolumne County Air Pollution Control District will continue to monitor air quality and will provide updates as the information becomes available.
Because local topography may cause smoke to become entrapped in certain valleys and basins, she suggests using the following visibility chart to determine the air quality where you are as it provides an excellent measure of air quality.
First identify on a map certain landmarks on the horizon. Then check to see at what distance the landmarks can no longer be seen. The distance of this landmark is the "visibility in miles."
Air Quality Categories/ Visibility in Miles
Good: 10 miles and up
Moderate: 6-9 miles
Unhealthy for Sensitive Groups: 3-5 miles
Unhealthy: 1½ – 2½ miles
Very Unhealthy: 1-1¼ miles
Hazardous: ¾ mile or less
More Guideline Tips
These can help prevent breathing problems during times when air quality is poor due to wildfires:
1) Individuals with long term health conditions like asthma, lung or heart disease should make sure that they have a supply of medications on hand and are following their caregiver's instructions.
2) Elderly and very young children should limit their outdoor activities when local air quality is "unhealthy for sensitive groups" (visibility less than five miles).
3) Signs that the smoke may be bothering you include coughing, scratchy throat, irritated sinuses, shortness of breath, stinging eyes or runny nose. Sometimes symptoms may even include chest pain or headaches. Consult your caregiver for worsening symptoms.
4) If you are advised to stay indoors, keep indoor air as clean as possible. Keep windows and doors closed unless it is extremely hot outside. Run an air conditioner if you have one, but keep the fresh-air intake closed and the filter clean to prevent outdoor smoke from getting inside. If you do not have an air conditioner and it is too warm to stay inside with the windows closed, seek shelter elsewhere.
5) Consider a high-efficiency particulate air (HEPA) filter to reduce breathing problems. Room air cleaners, which utilize a HEPA filter, may reduce the number of irritating fine particles in indoor air.
6) Do not add to indoor pollution. Do not smoke because smoking puts even more pollution into the air.
Detwiler Fire Starts
Detwiler Fire Day 2
Detwiler Fire Day 3
Detwiler Fire Day 4
Map of where Detwiler Fire started