Full Containment Of Massive Detwiler Fire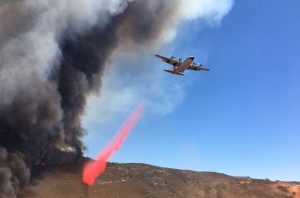 Detwiler Fire - 7-27-17

View Photos
Mariposa, CA — Five weeks and four days after it ignited, CAL Fire reports this morning that the Detwiler Fire in Mariposa County is 100-percent contained.
The 81,826 acre fire ignited on Sunday, July 16 along Detwiler Road near Hunters Valley Road, approximately two miles east of Lake McClure. CAL Fire announced on August 4 that an investigation unveiled that it was caused by "the discharge of firearms on public lands." A $2,000 reward is being offered for additional information that helps locate the person or individuals responsible for starting the fire. The number to call is 559-498-7867.
The Detwiler Fire destroyed 63 homes, 67 outbuildings and a commercial building. Thousands of people were forced to evacuate, including the entire community of Mariposa. Over recent weeks, CAL Fire had been stating that the fire was 98-percent contained as mop-up operations were wrapping up.