Update: Detwiler Fire Numbers Incrementally Grow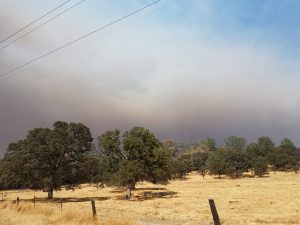 Detwiler Fire, July 20, 2017

View Photos
Detwiler Day 5
Update at 6:32pm: CAL Fire officials now say that the Detwiler Fire, earlier estimated at just over 70,000 acres, increased by about 500 acres today; containment remains at ten percent.
The blaze, which ignited Sunday afternoon, July 16, two miles east of Lake McClure, is now estimated at 70,596 acres, which is roughly 106 square miles. The official count of residences lost is 50 — up one — with 11 homes damaged. Firefighters battling the blaze are listed as 3,737.
Currently there are 72 people and 36 animals being housed at the Red Cross evacuation shelter located at Sonora's Mother Lode Fairgrounds, according to Fair CEO Ken Alstott, quoting Red Cross figures, adding that 144 meals have been served.
Update at 4:55pm: Due to numerous calls inquiring as to ways to locally support Detwiler Fire evacuees, Clarke Broadcasting has created a resource here.
Update at 3:04pm: A community meeting about the Detwiler Fire has been called for tonight in Merced.
CAL Fire Incident Management Team 4, the Mariposa County Sheriff's Office and additional cooperating agencies will host the event, starting promptly at 7 o'clock, at the Merced Theatre (301 West Main Street). Representatives from the agencies managing the fire incident will provide an operational briefing and also be available for questions.
Update at 1:34pm: As Tuolumne County continues its Detwiler Fire response preparations, Clarke Broadcasting has this update from Deputy Administrator and OES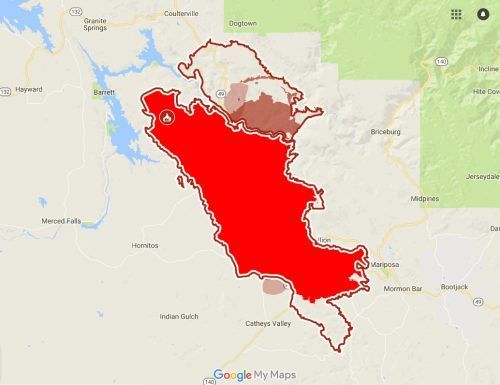 Coordinator Tracie Riggs about local efforts underway.
"Tuolumne County continues to analyze the situation and work in support of Mariposa County residents who have been evacuated into the county," Riggs shares. Of the 70 evacuees who spent the night last evening at the Mother Lode Fairgrounds, she says about 90 percent were seniors and she expects a slow steady inflow to continue. (Pictures of the evacuation center have been added to the slideshow, viewable in the image box.)
As far as the facilities go for use as an animal shelter, Riggs says about 35 to 40 small animals were brought in earlier and there is capacity for more. "They have to be in crates and/or on leashes," she reminds owners. As far as space for larger animals, it is somewhat limited. If and when the maximum capacity is reached, she says officials will make sure to share that information in advance.
Riggs adds that those needing help with transport of animals should call the Tuolumne County Sheriff's Office Dispatch, which is working with Animal Control and certified members of Team Elite to coordinate those efforts. Animal owners may make arrangements by calling the dispatch line directly at 209 533-5815 or 911.
Too, she says, "The Human Services Agency has been providing Behavioral Health clinicians to go and provide some crisis assessment and support for those who have been evacuated out of their homes and they will continue through today."
Update at 12:55pm: The Mariposa Sheriff's Office has ordered another Detwiler Fire evacuation. It is the River Road area from Briceburg to Northfork Falls. Read on for more of today's developments.
Update at 12 noon:  Another Detwiler Fire evacuation order issued in the noon hour is for Bull Creek Road from Greeley Hill Road to the Merced River and also Old Yosemite Road to the Five Corners intersection.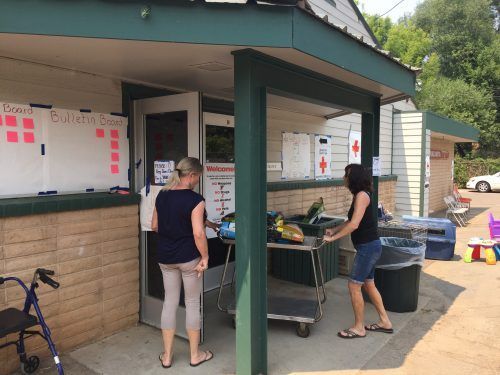 Again, besides the Red Cross evacuation center that set up yesterday in Tuolumne County at Sonora's Mother Lode Fairgrounds (220 Southgate Drive), there are four others on operation. They are: EV Free Church (50443 High School Road, Oakhurst, CA 93644); Sierra Vista Presbyterian Church (39696 Highway 41, Oakhurst, CA 93644); Mountain Christian Center (40299 Highway 49, Oakhurst, CA 93644); Cesar Chavez Junior High (161 S. Plainsburg Road, Planada, CA 95365).
The Red Cross shelter at Groveland Community Hall is now closed. Those who stayed there were relocated to the Mother Lode Fairgrounds. Red Cross officials are encouraging new evacuees in the area to go to the fairgrounds for assistance.
Volunteers, on hand at all locations, are able to provide lodging, meals, health services and comfort for affected residents; veterinary services are also available.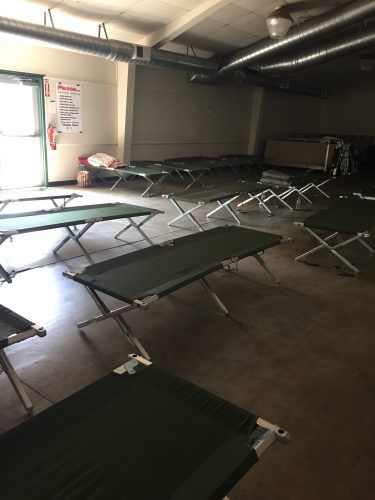 Update at 8:45am: There are 3,181 firefighters assigned to the Detwiler Fire this morning. CAL Fire reports the acreage (70,096) rose due to an increase in fire activity late yesterday afternoon. Overnight, fire crews continued their work to establish and reinforce containment lines. The fire area is seeing poor humidity recoveries at night allowing the fire to remain very active. The fire is burning in drought stricken chaparral and in an area of severe tree mortality. Damage assessment crews are on scene to evaluate and inspect the area.
Powerlines servicing Yosemite National Park also remain threatened, per CAL Fire.
Original story posted at 7:58am: Mariposa, CA — CAL Fire reports this morning that the Detwiler Fire is 70,906 acres and 10-percent contained.
45 structures have now been destroyed. An evacuation center remains open at the Mother Lode Fairgrounds in Sonora. Fair CEO Ken Alstott reports that 69 people checked in at the shelter last night, and around 35-40 animals.
The evacuation advisories and orders, released yesterday, remain in effect.
Tuolumne County leaders continue to monitor the situation, to lend support to Mariposa County leaders, and prepare for the possibility of the fire moving into Tuolumne County.
The below information has been released by the Tuolumne County Sheriff's Office:
An evacuation advisory has been issued for the area south of Highway 120 to the county line, between Smith Station Road and the Town of Moccasin.
An evacuation advisory means there is a potential for evacuation and residents should start preparing for evacuation.
An evacuation warning has been issued for the areas of Jackass Creek Road, Jackass Ridge, Cuneo Road and Priest Coulterville Road. An Evacuation Warning means that an evacuation is imminent and if you have special needs or livestock you should consider leaving the area. If you need assistance leaving your home please contact the Sheriff's Office.
If you choose to leave the area please take a northern route to Hwy 120.
End Day 5 Reporting
Detwiler Fire Starts
Detwiler Fire Day 2
Day 3
Day 4
Day 5 (see above)
Day 6
Day 7
Day 8
Day 9
Dewilter Fire Timeline Overview