Update: Detwiler Fire Reaches 40 Percent Containment, More Updates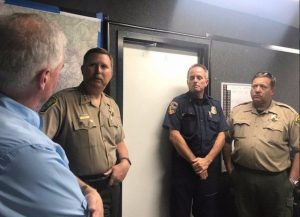 US Congressman Tom McClintock visits with-Mariposa Sheriff Doug Binnewies and other Detwiler Fire cooperating agencies

View Photos
Update at 7:18pm: CAL Fire officials report this hour in their evening update that the Detwiler Fire has reached 40 percent containment at 75,500 acres, up about 200 acres from this morning.
Approximately 1,500 homes remain under threat. Among the latest figures: one commercial business has been destroyed by the fire, along with 63 single-family residences; 13 homes have been damaged; additionally 67 minor structures are listed as being destroyed with another eight damaged.
CAL Fire officials state that today firefighters continued to construct and reinforce fire lines and due to successful suppression efforts, re-population is continuing as directed under the incident plan. Total personnel assigned to the blaze this evening is 4,645. Among the other resources are 501 engines; 65 water tenders; 20 helicopters; an unspecified number of air tankers; 92 hand crews; 88 dozers and five other units.
At this point, CAL maintains it still anticipates full containment by Aug. 5.
Cooperating agencies now listed are: Mariposa County Sheriff's Office; Mariposa County Fire; CAL OES; CHP; Mariposa Public Works; CALTRANS; Mariposa Public Utility District; BLM; Merced County Fairgrounds; Mariposa County Fairgrounds; California Dept. of Corrections and Rehabilitation; American Red Cross; Mariposa OES; Mariposa County Human Services and Public Health; North Fork Tribal Chair; CDCR; CYA Camp; City of San Francisco; TDS Telecom; AT&T; Verizon; Sierra Pacific Industries; PG&E; Tuolumne County Sheriff; Wildland Defense Systems; Sierra Telephone; California State Parks; Salvation Army; US Forest Service; Federal Team 5; Red Zone Disaster Intelligence; City of Merced; U.S. Senator Feinstein's Office; California National Guard; John C. Fremont Healthcare District; National Park Service; Sonoma County; Madera Sheriff; Mariposa Health Air Quality.
Update at 6:15pm: Another evacuation order has been lifted in conjunction with the Detwiler Fire.
Beginning at 6 p.m., the Mariposa Sheriff's Office advised that residents living in the following areas — which still remain under advisory — may return to their homes:
Old Highway from Highway 49 South to Totokon Road and all side roads; Old Highway from Guadalupe Fire Road to Highway 140 (Catheys Valley) EXCEPT Guadalupe Fire Road, which remains under an evacuation order; Bear Valley Road; Hunters Valley Road; Hunters Valley Mt. Access Road; Detwiler Road; Cotton Creek Road.
All other evacuation orders remain in effect. The sheriff's office adds that the following ROADS in these areas will remain closed EVEN THOUGH evacuation orders have been lifted: all side roads on Highway 140 with the EXCEPTION of Elizabeth Lane and Trower roads; Old Highway from Totokon to Guadalupe Fire Road — and all side roads in between; Highway 49 North from the top of Bagby Grade to Oakridge Road (Coulterville). Except for as listed below, the other previous evacuations remain in effect.
Earlier this afternoon free food waste disposal services began being offered at Highway 140 and Bullion Street behind the Chamber of Commerce, which will be available 9 a.m. until 3 p.m. Monday through Saturday.
Mariposa County health officials are recommending to residents that debris and ash from burned structures remain undisturbed until further instructions are issued. This is to protect the health of anyone who may come into contact with the waste, including solid waste facility employees, solid waste haulers, and the public.
The CAL Fire Tuolumne-Calaveras Unit reports that a new base camp is being established to support up to 1,000 firefighters on Sims Road off Highway 49 near Chinese Camp to alleviate the extensive travel time between the Incident Command Post in Merced and the northern edge of the Detwiler Fire.
Officials notes that the establishment of the camp is not an indicator of any fire threat to Tuolumne County. CAL Fire officials remind travelers in the area to use caution.
Earlier today, Mother Lode lawmaker US Rep. Tom McClintock visited a command center and spoke with Mariposa County Sheriff Doug Binnewies and officials from CAL Fire and other cooperating agencies. Thanking all involved for their efforts, he shared photos that are viewable in the image box slideshow.
Update at 2:30pm: The Mariposa County Sheriff's Office is allowing more displaced residents to return home.
Evacuation orders for the following areas below are lifted for residents only effective immediately. These areas will still remain under advisory.
French Camp Rd
Fournier Rd
Mykleoaks Rd
West Whitlock from 49N to Whitlock Gap (Three miles from Hwy 49 N)
Hwy 140 from Hornitos Rd to Elizabeth Lane
All evacuations on Hwy 140 between Elizabeth Ln to approximately one mile west of the town of Mariposa, remain under an Evacuation Order.
All other evacuation orders remain in effect.
The following roads will remain closed:
Agua Fria Rd
Mt. Bullion Cuttoff- Closed from Hwy 140 to Rd72 A
Princeton Way- Closed at Rd72 B
CYA Camp Rd- Closed at Hwy 49 North
Bear Valley Rd- Closed at Hwy 49 North to Mt. Gaines Rd
Cotton Creek Rd- Closed at Bear Valley Rd
Highway 49 North- Closed from Oakridge Rd (Coulterville) to the top of Bagby Grade
West Whitlock- Closed at Whitlock Gap (Three miles from Hwy 49 N) to Hwy 140
All side roads on Hwy 140 –Closed with the exception of Elizabeth Ln, Trower Roads
Original story posted at 8:35am: Mariposa, CA — The Detwiler Fire burning in Mariposa County is estimated to be 75,200 acres and 30-percent contained.
Click here to view the latest perimeter map or click here to view the progression map.
CAL Fire reports this morning that 60 homes have been destroyed, 63 outbuildings and one commercial building. In addition 13 more homes received damage. The fire's damage inspection team is now approximately 98-percent complete with their assessment of damaged and destroyed buildings.
The total cost to fight the fire has exceeded $11-million. There are 4,489 firefighters assigned to the incident. CAL Fire reports that crews continued to construct fire lines last night. Today conditions will start to heat up. High temperatures are expected to range from 96-102 degrees with minimum humidities from 12-16 percent. Fire activity is expected to be moderate with isolated tree torching.
Another community meeting will be held this evening at the Mariposa High School at 5074 Old Highway N. at 7pm.
Yesterday residents in the town of Mariposa were allowed to return home as the evacuation order was lifted.
CAL Fire has released the below information regarding current evacuation orders and advisories.
Evacuation Orders – Mt Bullion Ridge Rd, HWY 140 from Hornitos Rd. to 1 mile west of mariposa town and ALL side roads, Old HWY South from 49 S to School House Rd and all side roads, Buckeye Rd. to Ben Hur Rd. and ALL side roads, HWY 140 from 1 Mile east of Mariposa to East Whitlock Rd. and ALL side roads, East Whitlock Rd from HWY 140 to Colorado Rd and All side roads to the West, West Whitlock from 49-N to East Whitlock at Colorado Rd and ALL side roads, Colorado Rd. from E. Whitlock to Rancheria Creek Rd and ALL side roads,All of Rancheria Creek Rd.ALL of Sherlock Rd, ALL of Telegraph Rd, River Rd from Briceburg to Northfork Falls, French Camp Rd, Mykleoaks Subdivision, Fournier Rd, CYA Camp Rd, Mt. Bullion Cuttoff Rd- From Hwy 140 to 72a, Princeton Rd- From 49N to 72b
Evacuation Orders-North County HWY 49-N from Schilling Rd. to Oakridge Rd. and ALL feeder roads, HWY 132 from HWY 49-N to Windy Point, the town of Coulterville, Dogtown Rd. from Greeley Hill Rd. to Texas Hill Rd., ALL of Texas Hill Rd., Schilling Rd from HWY 49-N to Texas Hill Rd, Greeley Hill Rd. from Dogtown Rd. (Coulterville) to Dogtown Rd. near Bowers Cave. All roads between Greeley Hill Rd, Texas Hill Rd. Bull Creek Rd from Greeley Hill Rd to the Merced River, Old Yosemite Rd to the Five Corners intersection.
Evacuation Advisories NORTH COUNTY: HWY 49N from Oakridge Rd. to the County Line. All roads north of Greeley Hill Rd. to the Mariposa County line, to include Dexter Rd., Cueno Rd., Smith Station Rd. to HWY 120 and ALL feeder roads, Buck Meadows Rd. north of Greeley Hill Rd. to HWY 120, Old Yosemite Rd and Bull Creek Rd.
SOUTH COUNTY: Hwy 49-S from Ben Hur Rd to Indian Peak Rd and ALL feeder roads, Ashworth to Silver Lane and ALL feeder roads, Silver Bar to Ashworth and ALL feeder roads, Indian Peak to Oak Grove Rd and ALL feeder roads, Oak Grove Rd from Miwuk Rd to Oak Grove School Rd and ALL feeder roads, Allred Rd from 49S to Morningstar Lane and ALL feeder roads, Morningstar Lane to Carlton Rd and ALL feeder roads, Carlton Rd to Silva Rd and ALL feeder roads, Silva Rd to Hwy 49 South and ALL feeder roads, Bear Valley Rd- All homes from Exchequer Rd to Hornitos Rd, Hornitos Town Area, HWY 140 from Briceburg to E. Whitlock, Colorado Rd from HWY 140 to Rancheria Creek Rd., Oak Rd and Yosemite Oak Rd and all of Mariposa Town, 49-N from Mariposa to Fremont Fort, Mt Bullion Cuttoff Rd-from 49-N to 72b, School Ln, Rd 72A, Princeton Rd-from 49-N to 72b, Pendola Gardens, Old Toll, Corbett Creek Rd, Mt. Ophir, Hornitos Rd, Mt Gaines, No.9 Rd and Ben Hur Rd from Hwy 49 S. to Buckeye.
Evacuation Advisories – Tuolumne County Smith Station Rd. to HWY 120 and ALL feeder roads.