Update: Sonora's Red Cross Detwiler Fire Shelter To Offer Recovery Assistance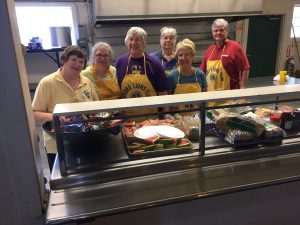 Sonora's Mother Lode Fairgrounds Red Cross Evacuation Center, Image July 20, 2017

View Photos
Update at 3:11pm: As part of their recovery phase assistance, American Red Cross workers are conducting client casework and distributing cleaning supplies for residents impacted by the Detwiler Fire.
According to Red Cross officials, caseworkers will be available tomorrow and Friday at Sonora's Mother Lode Fairgrounds (220 Southgate Dr.) from 9 a.m. until 7 p.m. each day. They will also be onsite tomorrow at Mariposa Elementary School (5044 Jones St.) from 9 a.m. until 5 p.m.
These workers are specifically trained to help people navigate through the confusions and complications often inherent with the process of disaster recovery. Additionally, Red Cross emergency response vehicles are now gearing up to bring meals and snacks and clean-up kits (containing a mop, broom, gloves, disinfectant, tarps, and sifters) to residents who have returned to assess damage at their homes.
Residents seeking assistance at the Sonora fairgrounds or at Mariposa Elementary should, if possible. bring proof of residency as it will help speed up the process. For more information, contact the Red Cross public information line at (559) 343-2549.
Original Post at 11:58am: Sonora, CA — Today marks the seventh day of service for Sonora's Mother Lode Fairgrounds as a Red Cross-run refuge for Detwiler Fire evacuees. Here is the latest word for those looking to provide support.
As reported here, the shelter opened last Tuesday evening on Day Four of the blaze, which triggered evacuations in northern Mariposa County as well as advisories in southern Tuolumne County.
Today, Bill Slotter, a Red Cross spokesperson who is working onsite, shares with Clarke Broadcasting, "We could use about five volunteers to help with feeding over the next four days…they will be working with the Lions Club, who is doing the cooking." Helpers are needed to work from 4 to 6 p.m. Wednesday, as well as Thursday, Friday and Saturday from 7 a.m. to 6 p.m. Anyone interested should sign up by calling in advance at (916) 468-8675.
The fairgrounds continues to remain open in support of Mariposa County residents as well as due to concerns about wind patterns and low humidity in the weather forecast over the next few days, according to Fair CEO Ken Alstott, who met with Red Cross officials Tuesday afternoon. He says between the campgrounds and Red Cross shelter building onsite, the fairgrounds is currently housing about 30 people.
Slotter, a government operations liaison for the Red Cross who hails from Pennsylvania, emphasizes what he calls an "amazing" amount of community support for the shelter, which has helped operations remain in good shape, supplies-wise.
Last week, the Red Cross and Tuolumne County Deputy Administrator OES Coordinator Tracie Riggs shared a few ideas (click here for details)  for those wanting to donate items. Those wanting to support disaster response to California wildfires through a direct Red Cross donation can get more details on how to do that by clicking here.
Current Red Cross figures indicate that during the course of its Detwiler Fire response to date, it has assisted with 960 shelter stays for families, along with serving 13,000 meals and snacks; facilitating more than 450 health contacts and distributing more than 2,000 relief items.