Update: Detwiler Fire Evacuation Advisories In Tuolumne County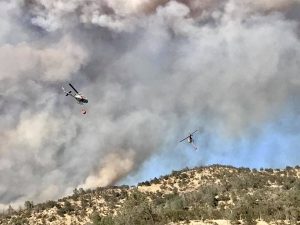 Detwiler Fire Near Lake McClure
A summary of Day 4 information is here, current day five coverage is here.
Update at 7:30pm: CAL Fire is reporting this evening that the Detwiler Fire is  estimated to be 48,000 acres and seven percent contained. There are 3,175 firefighters assigned. 29 homes have been destroyed and 1,500 are threatened. All earlier evacuation advisories and orders remain in place.
Update at 7:20pm: The Tuolumne County Sheriff's Office is warning some residents to be prepared in the event that the Detwiler Fire eventually moves into Tuolumne County.
The below information has been released by the Sheriff's Office:
An evacuation advisory has been issued for the area south of Highway 120 to the county line, between Smith Station Road and the Town of Moccasin.
An evacuation advisory means there is a potential for evacuation and residents should start preparing for evacuation.
An evacuation warning has been issued for the areas of Jackass Creek Road, Jackass Ridge, Cuneo Road and Priest Coulterville Road. An Evacuation Warning means that an evacuation is iminent and if you have special needs or livestock you should consider leaving the area. If you need assistance leaving your home please contact the Sheriff's Office.
If you choose to leave the area please take a northern route to Hwy 120.
An evacuation shelter has been set up at the Mother Lode Fairgrounds and they can accommodate animals.
The Sheriff's Office has put out the following definitions below:
Evacuation Advisory – Issued to the media to alert the public to potential evacuation orders. The advisory will contain general information on how to prepare for an evacuation.
Evacuation Warning – Issued when an evacuation order is eminent. It includes the specific geographical area that may be evacuated and procedures to be followed.
Evacuation Order – Issued when there is an immediate threat to life and/or property. The evacuation order contains specific geographic area to be evacuated and procedures to be followed.
Update at 5:35 p.m.: CAL Fire Incident Management Team 4, the Mariposa County Sheriff's Office, and additional cooperating agencies on the Detwiler Fire are hosting a community meeting.
The meeting is being held at Mount Christian Center in Oakhurst, starting promptly at 7:00 p.m.  The Mount Christian Center address is 40299 HWY 49, Oakhurst, CA 93644.
Update at 3:45 p.m.: OES Coordinator Tracie Riggs and Mother Lode Fairgrounds CEO Ken Alstott confirm to Clarke Broadcasting that the shelter at the fairgrounds has opened.
Alstott indicates all those evacuees currently housed at the Groveland Community Center will be moving to the Sonora fairgrounds as the Groveland shelter is in the process of shutting down. He also notes that both small and large animals will be accepted at the fairgrounds. Additionally, in terms of needs for evacuees, he says officials will be gathering information and letting us know as soon as possible.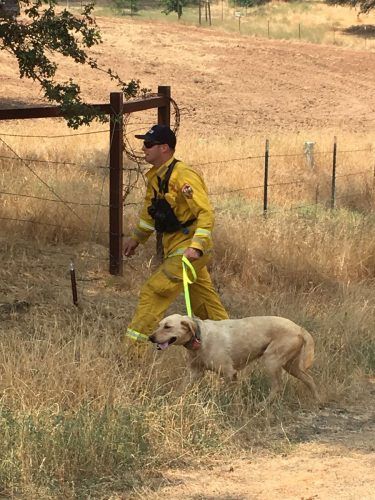 Update at 3:05 p.m.: Tuolumne County emergency and law enforcement officials are meeting this hour to coordinate efforts for supporting Mariposa County as well as preparing for potential direct impacts to local residents due to the Detwiler Fire.
The Mother Lode Fairgrounds is preparing to open shortly as a Red Cross evacuation center and small animal shelter,  but officials there are waiting for the go-ahead.
According to Mariposa Animal Control officials, large animals are still being directed to the Mariposa Event Center in La Grange (for North Mariposa County residents) and the Coarsegold Rodeo Grounds (for South Mariposa County residents).
Update at 2:31 pm: Those following the supportive firefighting efforts from the air on the Detwiler Fire may be interested by a milestone reached by one of the air tankers involved.
John Gould, the president of 10 Air Tanker has confirmed that the company's Tanker 911, a DC-10, set a company record yesterday by flying ten missions — in fewer than six hours of flight time — while delivering 108,000 gallons of retardant to the Detwiler Fire.
Gould says, when there is sufficient time to fill up, the aircraft is able to carry 11,600 gallons at a time to drop on a fire. He adds that his company has been directed by CAL Fire to use two DC-10 aircraft flying out of Castle Air Force Base. These planes are also able to fly as needed out of Merced, McClellan, Santa Maria or San Bernardino. You can view footage of a DC-10 drop made on the 2015 Oak Fire dear downtown Sonora here.
Update 2:15pm: As we continue to follow Detwiler Fire developments, the Sonora CHP wants to remind travelers that Highway 49 is closed from Highway 120 to Triangle Road and that Highway 132 is closed from Highway 49 to Horseshoe Bend.
You can view video footage of the Detwiler Fire  supplied by the Tuolumne County Sheriffs Office to KVML/myMotherLode.com here. Again, the latest figures are that the blaze has burned nearly 46,000 acres and is seven percent contained. Read on for road closures, evacuations, resources and other essential details reported below.
Update at 1:30 pm: Tuolumne County officials are busily working to support Mariposa County while preparing in the event that the Detwiler Fire impacts Tuolumne residents.
Tuolumne County Deputy Administrator and OES Coordinator Tracie Riggs tells Clarke Broadcasting, "We are actively watching, monitoring the fire…a meeting this afternoon will cover supporting local county residents should they personally become impacted by the fire. Right now we do not have any evacuations in place for Tuolumne County. What we do have are some of the Mariposa County residents who are being evacuated into Tuolumne County, and that is why we are setting up the shelters."
She emphasizes that the evacuation shelter at the Mother Lode Fairgrounds in Sonora is not quite ready to open to the public but should be between 3 and 4 p.m., after the Red Cross has been able to arrive with supplies and finish setting up. Once it does, she says, the center set up last evening at Groveland Community Hall will close.
As for residents wanting to help by donating supplies for evacuees, Riggs says, her office will be continuing to gauge what and where it is needed and provide updates as they have the information to pass on. In the meantime, she states, "Food, water, toiletries — things like that — people can always bring to the shelter."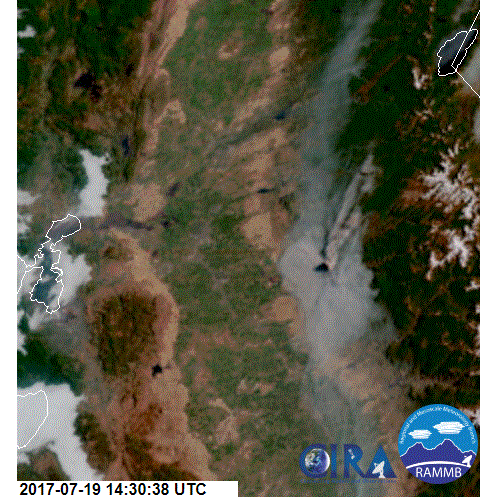 Update at 1:17 pm: The Mariposa Sheriff's Office has just issued some new evacuation advisories.
They are for: the area of Highway 49 North from Oakridge to the Mariposa County line; all roads north of Greeley Hill Road to the Mariposa County line, including the areas of Dexter Road; Cuneo Road; Wagner Ridge; Smith Station Road to Highway 120 and all side roads; Buck Meadows Road North of Greeley Hill Road to Highway 120; Old Yosemite Road; Bull Creek Road.
Update at 1 pm:  As the Detwiler Fire continues to burn out of control, Sonora's Mother Lode Fairgrounds has been tapped by the Red Cross for use as an evacuation and small animal shelter.
Fair CEO Ken Alstott shares that paperwork is in the process of being signed that will allow the fairgrounds to support evacuations later this afternoon or early evening and that buildings are now being cooled in preparation.
He also says that this afternoon a local multi-agency meeting of Tuolumne County administration officials , Office of Emergency Service, the Sheriff's Office, CAL Fire and fairgrounds officals will convene to discuss further integrated efforts. We will bring you more details that come out of that as they become available.
Update at 12:10pm: The Mariposa County Sheriff's Office has issued a new evacuation order for the "town area of Coulterville."
In addition, an evacuation order has been issued along Highway 132 from Highway 49 North to Windy Point, and from Highway 49 North to Oakridge Road.
Also of note, officials with the CAL Fire Tuolumne-Calaveras Unit report that they are currently working with the Tuolumne County Office of Emergency Services, Groveland Community Services District, Tuolumne County Sheriff's Office, Board of Supervisors and the Tuolumne County Fire Department to evaluate potential impacts of the Detwiler Fire.
Due to smoke from the Detwiler Fire, a rabies clinic, originally scheduled for tonight in Groveland, is cancelled. It was going to be held at 7pm at Mary Laveroni Park, according to Tuolumne County Animal Control.
The latest size estimate still puts the Detwiler Fire at 45,724 acres and it is seven percent contained, according to CAL Fire.
Update at 10:15am: Additional evacuation orders have been issued this morning for the Detwiler Fire. The Mariposa County Sheriff's Office reports that residents are now ordered to leave along Dogtown Rd in Coulterville to Dogtown Rd near Bowers Cave in Greeley Hill. All homes are also evacuated on side roads between Greeley Hill Road and Texas Hill Road. All earlier evacuation orders still remain in effect.
The earlier evacuation orders and advisories, per CAL Fire, are listed below:
Evacuation Orders- South Mariposa County – are in effect for the following areas: Mount Bullion Ridge Road from HWY 49N to HWY 140 and ALL feeder roads; Old Toll Road between Corbett Creek Road and HWY 49N, including Corbett Creek Road.; Mount Gaines Road to No.9 Road including No.9 Road; HWY 140 from Hornitos Rd. to Hwy 49S and ALL feeder roads both sides. Yaqui Gulch Rd. from HWY 140 to Old HWY ALL feeder roads on both sides. Old HWY from 49S to School House Rd. and ALL feeder roads on both sides. Buckeye Rd. to Benhur Rd. both sides of the road and feeder roads. Benhur from Buckeye to Hwy 49S. Mariposa Town HWY 140 from 49N to East Whitlock Rd. and ALL feeder roads. East Whitlock Rd from HWY 140 to Mosher Rd. and All feeder roads to the West. Hornitos Rd. from HWY 140 to Mount Gaines Rd. and ALL feeder roads. Including the community of Whispering Oaks. West Whitlock from 49N to Mosher Rd. and ALL feeder roads and all areas north of the Merced River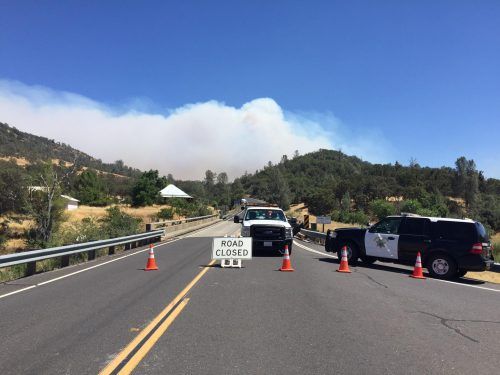 Evacuation Warnings-North Mariposa County – are HWY 49N from Schilling Rd. to HWY 132 including all feeder roads; Main Street Coulterville;Dogtown Rd. from Greeley Hill Rd. to Texas Hill Rd. and all of Texas Hill Rd. ;Schilling Rd from HWY 49N to Texas Hill Rd.
Update at 8:30am: CAL Fire reports that yesterday crews experienced extreme and aggressive fire behavior, resulting in the new size estimate of 45,724 acres. The communities of Hunters Valley, Bear Valley, Catheys Valley, Mormon Bar, Mariposa, Mount Bullion, Yaqui Gulch/Aqua Fria areas and Hornitos continue to be threatened. There are 2,208 firefighters on scene this morning, 217 engines, 35 crews, nine airtankers, 11 helicopters, 35 dozers and 26 water tenders.
1,500 homes are still threatened, and all earlier evacuation orders remain in place. Eight structures have been destroyed and one additional structure was damaged. The fire is also threatening power lines that supply electricity to Yosemite National Park.
Heavy smoke remains an issue in the region. Click here to read an earlier story related to health concerns.
Update at 7:10am: The incident management team overseeing the Detwiler Fire reports that blaze is now 45,724 acres and seven-percent contained. We'll pass along more information when it becomes available.
Original story posted at 6:20am: Mariposa, CA — As residents are evacuated due to the Detwiler Fire in Mariposa County, there are now five locations to go for lodging, meals and other services.
The Red Cross Evacuation Centers are open at the EV Free Church on High School Road in Oakhurst, the Sierra Presbyterian Church on Highway 41 in Oakhurst, the Mountain Christian Center on Highway 49 in Oakhurst, the Cesar Chavez Junior High on S. Plainsburg in Planada and the Groveland Community Hall on Highway 120 in Groveland.
There are an estimated 4,968 people evacuated, and 1,500 residences threatened. Around 1,400 firefighters are assigned to the incident.
The latest size estimate from CAL Fire is that the blaze was 25,000 acres and five-percent contained. At least eight structures have been destroyed. A new size estimate will be released later this morning.
Detwiler Fire Starts
Detwiler Fire Day 2
Day 3
Day 4 (see above)
Day 5
Day 6
Day 7
Day 8
Day 9
Dewilter Fire Timeline Overview