Officials Issue Restrictions Due To High Hazard Fire Conditions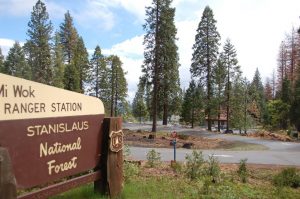 STF Mi-Wok District sign

View Photos
Sonora, CA — Prevalent high fire hazard conditions have triggered Stanislaus National Forest (STF) and Bureau of Land Management (BLM) to issue fire and target shooting restriction orders, effective immediately.
As STF forest spokesperson Diana Fredlund explains, "Stanislaus National Forest enacted temporary fire restrictions for our High Hazard areas. That means campfires, barbecues, smoking, [using] any kind of propane [device] that does not have an on-off switch is prohibited on the forest…and that also incldes welding and blasting."
Continuing, she qualifies the exceptions, "The campfire restriction does not pertain to those using STF facilities, such as at Pinecrest Lake or any other designated public campsites — it is when you are off those public areas and into dispersed camping in the forest that these [restrictions] take place."
In specific cases, individuals may be exempt from the fire restrictions. Among these are those with a Forest Service permit specifically permitting the otherwise prohibited activity. Those with a valid California Campfire Permit are not exempt -– however they may use a portable stove or lantern that utilizes gas, jellied petroleum or pressurized liquid fuel. Those holding special use permits for a recreation residence may use a campfire or stove at that residence. Anyone found in violation of the order may receive citations and/or fines.
Fredlund points out that there are High Fire Hazard designated areas of the Stanislaus National Forest located in Calaveras, Mariposa and Tuolumne counties. Criteria for activating prohibitions through a forest order is based on national system indices and fuel moisture conditions. For a map and list of the STF High Hazard areas, click into the image box slideshow.
More Restrictions In Place
Also due to high fire potential, BLM initiated emergency target shooting restrictions on public lands managed by its Mother Lode Field Office, effective today. The order will remain in place until fire dangers subside. Officials state that using firearms for hunting is still allowed.
Along with Tuolumne, Stanislaus, Mariposa, Calaveras, Alpine and Amador counties, other counties within the field office's jurisdiction are included in the restriction. These are Merced, Colusa, El Dorado, Nevada, Placer, Sacramento, San Joaquin, Sutter, and Yuba counties.
"Because of the record rains, there is a tremendous amount of available fire fuel. Combined with high temperatures and low humidity, we have already seen numerous fires with extreme fire behavior claiming structures — and threatening the public and wildland firefighters," Acting Field Manager James Eicher states.
Back in June, the field office implemented seasonal fire restrictions limiting all campfires and barbecues to fire rings in designated campgrounds. However, portable stoves with gas, jellied petroleum or pressured liquid fuel are authorized on BLM-managed lands with a valid California Campfire Permit. Officials emphasize that visitors should remain extremely careful with their use as well as carry shovels and water to help put out their fires.
Other BLM fire safety restrictions prohibit the use of tools powered by internal combustion engines off established roads or trails. Smoking is also limited to within an enclosed vehicle or building; at a designated developed recreation site or other designated areas.
Additionally, no motorized vehicles are allowed off established roads or trails on BLM-managed resources. While it should go without saying, fireworks, including "safe and sane" ones, are also prohibited.
Day 6 Detwiler coverage is here.