Detwiler Fire Support For Evacuees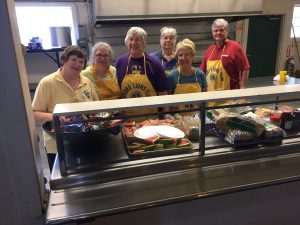 Sonora's Mother Lode Fairgrounds Red Cross Evacuation Center, Image July 20, 2017

View Photos
Sonora, CA – County officials are answering numerous public inquiries being made about ways to provide support and/or supplies to help those displaced by the Detwiler Fire.
For starters, Tuolumne County Deputy Administrator and OES Coordinator Tracie Riggs, whose office is working closely with Red Cross officials, suggests that supplies covering basic needs are probably the most welcome overall. Ahead of planning to bring any provisions to Sonora's Mother Lode Fairgrounds, Riggs warns, "I know that [Red Cross intake personnel] cannot take any homemade foods."
However, she emphasizes, "I know that they will take and would love to have donations of bottled water and other nonperishable goods that they can use in preparation of food." A list of such items is in the process of compilation. (When it is ready Clarke Broadcasting will update this story with that inclusion.)
Among Supplies That Are Useful
When choosing foods to bring, remember that prepackaged, sealed products should be in non-glass containers. Breakfast or energy bars and snacks in single-serving packaging are easily dispensed.
Riggs adds, "The Red Cross always needs those small mini-toiletries…[like] toothbrushes, toothpaste, small items of shampoo, soap, disposable razors, shaving cream."
As far as Tuolumne County OES efforts go, Riggs says that officials continue to analyze the situation as well as support Mariposa County residents who have been evacuated into the county. A shelter that was initially set up at Groveland Community Hall closed Wednesday night and evacuees there were transitioned to the Mother Lode Fairgrounds location.
Wednesday night 70 evacuees who spent the evening at the fairgrounds, where lodging, meals, health services and comfort is provided by Red Cross personnel and volunteers. Riggs estimates of these, about 90 percent were seniors. She states that she expects a slow steady inflow to continue. (Pictures of the evacuation center taken earlier today can be viewed by clicking the slideshow in the image box.)
Animal Shelter Facilities
As far as the facilities go for use as an animal shelter, Riggs says about 35 to 40 small animals were brought in Wednesday night and Thursday morning and there is capacity for more. "They have to be in crates and/or on leashes," she reminds owners. Veterinary services are available onsite.
As far as space for larger animals, it is somewhat limited. If and when the maximum capacity is reached, she says officials will make sure to share that information in advance.
Riggs adds that those needing help with transport of animals should call the Tuolumne County Sheriff's Office Dispatch, which is working with Animal Control and certified members of Team Elite to coordinate those efforts. Animal owners may make arrangements by calling the dispatch line directly at 209 533-5815 or 911.
Too, she says, other county agencies are providing supportive services. Among these is the Human Services Agency, whose Behavioral Health clinicians have been offering evacuees crisis assessment and other support.
Anyone who might prefer providing financial support to the cause may make a direct general donation to Red Cross Disaster Relief. For details on the various ways available to do this, click here.