Detwiler Fire Investigators Still Seeking Details, Public's Help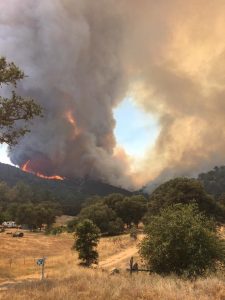 Detwiler Fire

View Photos
Sonora, CA — State Department of Forestry and Fire Protection investigators are still keeping mum on details that lead them to believe the Detwiler Fire was human-caused.
Officials have determined it was gunshots fired on public lands that sparked the 81,000-acre wildfire that destroyed 63 Mariposa County homes near Yosemite National Park. Today, Battalion Chief Mike Mohler demurred from providing more public information because the investigation still actively underway.
The chief allows that shooting is allowed on public land where the fire started and is requesting members of the public to report any vehicles or anything else they consider unusual that they may have seen around the time the fire sparked back on July 16 near Detwiler and Hunters Valley roads, as it might better help investigators piece the case details together.
There is a $2,000 reward being offered by investigators for information leading to a conviction.