CAL Fire Determines Cause Of Detwiler Fire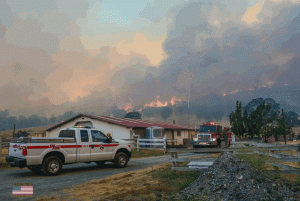 Detwiler Fire Archive Photo

View Photos
Mariposa, CA — While additional details are still being sought, CAL Fire has determined what ignited the 81,000 acre Detwiler Fire in Mariposa County.
A CAL Fire report states, "The discharge of firearms, on public lands, is responsible for sparking the fire. The specific circumstances surrounding the cause remain under investigation."
A $2,000 reward is being offered for information that leads to the arrest and conviction of whoever is responsible. Anyone with information is encouraged to call a Crime Stoppers hotline at (559)-498-7867. No further information is immediately available.
The fire ignited on Sunday, July 16, and destroyed 137 structures.