Update: Detwiler Fire Containment Grows And More Evacuation Orders Are Lifted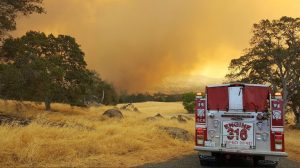 Detwiler Fire, July 19, 2017 by Sacramento Fire Dept

View Photos
Detwiler Fire Day 6
Update at 7:30pm: The Mariposa Sheriff's Office has lifted the evacuation orders for the following areas:
Residents Only-Hwy 49N Area Including the following:
49N from Mariposa to Fremont Fort
Mt. Bullion Cuttoff Rd- From 49N to 72b
School Lane
Rd 72A
Princeton Rd- From 49N to 72b Only
Pendola Gardens
Old Toll
Corbett Creek Rd
Mt. Ophir
Residents Only-  
Hornitos Rd
Mt. Gaines
No. 9 Road
Ben Hur Rd from Hwy 49 South to Buckeye
These areas will still remain under advisory. Evacuation Advisory- Issued alert to media and public of potential evacuation orders.  Contains general information of the incident and how to prepare.
All other evacuation orders remain in effect.
Update Highway 140:
Hwy 140 will be open to thru traffic only, all evacuations along Hwy 140 remain under an Evacuation Order.
The following roads will remain closed:
Highway 49 North- Closed from Fremont Fort to Oakridge Rd (Coulterville)
French Camp Rd- Closed at Hwy 49 North
West Whitlock- Closed at Hwy 49 North
Agua Fria Rd- Closed at Hwy 49 North
Mt. Bullion Cuttoff- Closed from Hwy 140 to Rd72 A
Princeton Way- Closed at Rd72 B
CYA Camp Rd- Closed at Hwy 49 North
Bear Valley Rd- Closed at Hwy 49 North to Mt. Gaines Rd
Cotton Creek Rd- Closed at Bear Valley Rd
*All Roads off of Hwy 140 remain closed- Between Hwy 49S and Hornitos Rd
Update at 7:05pm:  CAL Fire officials say the Detwiler Fire has grown by nearly 1,000 acres with the size estimated to be 75,000 acres.
However, along with that increase the containment has jumped from 15 to 25 percent. Nearly 58 homes and 60 other structures have been destroyed, as officials continue to assess the burn area.  CAL Fire has projected a containment date of August 5 for the Detwiler Fire.
The Mariposa County Sheriff's Office lifted the evacuation orders on the town of Mariposa around noon Friday. All other earlier evacuation orders and advisories remain in place, including the advisory and warnings for Tuolumne County. (View further information regarding evacuations and roadways in the fire area below.)
To view a summary timeline of the Detwiler Fire, click here.
Update at 6:30pm: A reminder for travelers that although Yosemite National Park remains open and operational, Yosemite Valley cannot be accessed from Merced via Highway 140. However, all entrances to park are open.
Visitors can get to Yosemite Valley via Highway 140 from Mariposa, Highway 41 from Fresno, Highway 120 West from Groveland, and Highway 120 East from Lee Vining and US Route 395.
Additionally, smoke from the Detwiler Fire is impacting the air quality throughout the park.
Update at 5:20 pm: With the Mariposa County Sheriff's Office lifting the evacuation orders on the town of Mariposa around noon today, the American Red Cross of the Central Valley is offering support to families returning to their homes.
Volunteers will be on hand throughout the day to provide support, such as snacks and water at Mariposa Elementary School located at 5044 Jones Street in Mariposa.
To view a summary timeline of the Detwiler Fire, click here.
Update at 4:16pm: Red Cross officials at Sonora's Mother Lode Fairgrounds say four portable showers that have been delivered increase the availability of facilities and have shared more suggestions for supplies donations.
According to Red Cross Disaster Program Manager Debbie Calcote, mini-toiletries are very helpful — bottled water, too. For the moment, she confides, "We are holding steady and doing very well on our food supplies." Large bulk food items in sealed single-serving packages, like snacks, are going to good use. She emphasizes however that there is still a need in the kitchen for some larger pots for cooking.
Calcote adds that since many of the evacuees on-site are seniors, chairs and umbrellas to sit outside would also be welcome. "Puzzles [too], I am going through puzzles like crazy…it is what during a lot of the evenings the folks do…it is very calming. They get together at the tables together and do the puzzles together."
In addition to the smaller animals already there, large animals are starting to turn up at the fairgrounds' shelter area. Calcote says bedding materials such as shavings and straw and oats are among the supplies that would be helpful in that department.
For more details about ways to support Detwiler Fire evacuees at the fairgrounds through the Red Cross shelter, click here.
Update at 4:05pm: Among several new Detwiler Fire updates this hour is a community meeting set for tonight and more details of a fire engine accident earlier today.
First, CAL Fire Incident Management Team 4, the Mariposa County Sheriff's Office and additional cooperating agencies are hosting the meeting in Greeley Hill tonight at 7:30 with representatives on hand to provide an operational briefing and answer questions. The location is the Greeley Hill Community Club (10332 Fiske Road, Greeley Hill CA 95311).
CAL Fire has released new details regarding a fire engine accident this morning while battling the fire. CAL Fire spokesperson Andy Isolano reports that it was a single-vehicle accident involving an engine from Selma in Fresno County while it was carrying firefighters.
Isolano states the crew was returning from an assignment to base camp on a windy road. He details, "They struck a log on the side of the road that had come down or been sticking out on the side of the road. When they did that, it caused them to lose control and go off into a field. One firefighter — not the driver — a passenger was injured as a result."
The firefighter's injuries were reportedly minor in nature and he was subsequently treated at Community Regional Medical Center in Fresno and released. Isolano adds that the engine is out of commission.
Update at 12:25pm: A few areas and roads are now open, Mariposa County Sheriff's Office officials have announced.
The areas now open are Highway 140 from Highway 49 South to Old Highway North; also Highway 49 North from Highway 140 to Lemee Lane.
Roads now open without restrictions are Highway 49 South and Highway 140 east of Mariposa to Yosemite.
Roadblocks that remain in place are Highway 49 North at Lemee Lane; Highway 140 at Highway 49 South; Grosjean at Highway 140; Lakeview at Highway 140; East Whitlock at Highway 140.
According to the Mariposa Sheriff's Office, its and other allied agencies' personnel are maintaining a heavy presence in the Mariposa town area to ensure the security and safety of residents and businesses.
The town remains under an advisory evacuation as a precautionary measure. Due to the large amount of emergency equipment in the area, speed control is being strictly enforced. As firefighters continue with their operations those traveling through the area should anticipate smoke. Officials say that anyone feeling unsafe should call 911.
Update at 12:08pm: In Sonora, at the Mother Lode Fairgrounds, where the Red Cross set up an evacuation shelter, Fair CEO Ken Altstott reports that the inflow of evacuees is trickling.
Last evening 79 people spent the evening and about 35-40 animals are being boarded. Too, about 30 US Forest Service personnel are on site, many of whom pitched tents that are now visible from Stockton Road.
Update at 11:50am: CAL Fire reports that the evacuation order has been lifted for the town of Mariposa. Highway 49 South is also now open with no restrictions. Highway 140 east of Mariposa is open to Yosemite National Park. All other earlier evacuation orders and advisories remain in place.
Update at 11:25am: Very limited information is available, but CAL Fire reports that an engine assigned to the Detwiler incident, operating near the Mount Bullion area, was involved in an accident this morning. At this time the type, and extent, of injuries related to the accident is not immediately known. More information is expected to be released from CAL Fire today.
Also, CAL Fire is now estimating that 58 homes and 60 other structures have been destroyed, as officials continue to assess the burn area.
In addition, CAL Fire is estimating full containment of the Detwiler Fire by August 5.
Update at 7:54: Click on the Detwiler Fire Map to view the latest on the fire's progression.
Original story posted at 7:28am: CAL Fire reports the Detwiler Fire is now 74,083 acres and 15-percent contained.
The newest evacuations, yesterday, were in Mariposa County in the River Road area from Briceburg to Northfork Falls, and Bull Creek Road from Greeley Hill Road to the Merced River, and also Old Yosemite Road to the Five Corners intersection. The evacuation advisory and warnings announced Wednesday night for portions of Tuolumne County still remain in place.
They include an evacuation advisory for the area south of Highway 120 to the county line, between Smith Station Road and the Town of Moccasin, and an evacuation warning for the areas of Jackass Creek Road, Jackass Ridge, Cuneo Road and Priest Coulterville Road.
Speaking about the fire conditions, CAL Fire Information Officer Scott Mclean says, "The wet winter has promoted a grass crop that we haven't seen for decades. This fire started in the grass and has moved into what we call brush patches, which cover the mountains in this area. This brush is very receptive to the fire as well."
Mclean adds, "We've counted 50 residences destroyed, and it's an ongoing count, as well as 49 other types of structures destroyed."
For earlier information about the Red Cross Emergency shelter in Sonora, and donations being accepted, click here.
For information about air quality concerns, click here.
End Day 6 report
Detwiler Fire Starts
Detwiler Fire Day 2
Day 3
Day 4
Day 5
Day 6 (see above)
Day 7
Day 8
Day 9
Dewilter Fire Timeline Overview