Update: Detwiler Fire Flare-up, Meeting Cancelled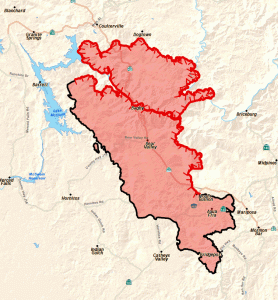 Detwiler Fire Map

View Photos
Update at 5:32pm: Due to increased fire activity and using an abundance of caution, CAL Fire and other officials have decided to cancel and reschedule tonight's public meeting.
As reported below, the Detwiler Fire showed signs of a flare up in the four o'clock hour, during which CAL Fire called upon additional units, including air resources. CAL Fire officials maintain the flare up is contained within a contingency area (as described below) and that the decision was made to concentrate on the increased firefighting activities instead of holding a community meeting, which will be rescheduled to happen as soon as possible.
Update at 5:05pm: According to CAL Fire officials, a flare up within a contingency area cut within the Detwiler Fire has led to more fire activity — including additional air resources being called.
This is occurring as nearby residents have continued to call Clarke Broadcasting to report billowing smoke as well as speculate as to the cause. CAL Fire Mariposa Dispatch explains that the flare up is located within an area that is completely surrounded by dozer-cut fire lines, which have created a circumference of bare-mineral dirt that is keeping the fire from spreading beyond that point.
Update at 3pm: The Mariposa Sheriff's Office states another Detwiler Fire community meeting will happen tonight at the Greeley Hill Community Club (10332 Fiske Road, Greeley Hill 95311), beginning at 7.
Representatives from several cooperating agencies managing the incident will provide an operational briefing and be available for questions. Officials expected to be on hand include the Mariposa County Sheriff's Office, Bureau of Land Management, California Highway Patrol, California Department of Corrections and Rehabilitation, California Conservation Corps, American Red Cross, and Cal-OES.
Update at 8:24am: Additional Detwiler Fire evacuation orders were lifted at 8am this morning. They include Mt. Mullion Cutoff Road, Agua Fria Road and Princeton Road. These areas are still under an evacuation advisory.
Original story posted at 7:13am: Mariposa, CA — Fire officials plan to hold another community meeting on the Detwiler Fire this evening.
It will get underway at 7pm at the Greeley Hill Community Club at 10332 Fiske Road. As of this morning, the fire is estimated to be 76,250 acres and 50-percent contained.
The latest areas where evacuation orders were lifted include Yaqui Gulch Road, CYA Camp Road and Mt. Bullion Ridge Road. All earlier evacuation orders and warnings were also lifted yesterday for Tuolumne County.
Remaining Evacuation Orders:
South County – Mariposa Mt. Bullion Cuttoff Rd- From Hwy 140 to 72 Princeton Rd- From 49N to 72b River Road- From Briceburg to North Fork Falls
North County – Mariposa All of Schilling Rd ALL feeder roads. Dogtown Rd. from Greeley Hill Rd to Bowers Cave, ALL of Texas Hill Rd, Greeley Hill Rd. from Dogtown Rd. (Coulterville) to Dogtown Rd. near Bowers Cave and all side roads to the South Bull Creek Rd from Greeley Hill Rd to the Merced River, Old Yosemite Rd to the Five Corners intersection
Remaining Evacuation Advisories:
South County – Mariposa. Hwy 49-S from Ben Hur Rd to Indian Peak Rd and ALL feeder roads, Ashworth to Silver Lane and ALL feeder roads, Silver Bar to Ashworth and ALL feeder roads, Indian Peak to Oak Grove Rd and ALL feeder roads, Oak Grove Rd from Miwuk Rd to Oak Grove School Rd and ALL feeder roads, Detwiler Rd, Hunters Valley Rd, Hunters Valley Access Rd, Cotton Greet Rd, Allred Rd from 49S to Morningstar Lane and ALL feeder roads, Morningstar Lane to Carlton Rd and ALL feeder roads, Carlton Rd to Silva Rd and ALL feeder roads, Silva Rd to Hwy 49 South and ALL feeder roads, Bear Valley Rd- All homes, Hornitos Town Area, HWY 140 from Briceburg to the town area of Mariposa including all roads to the west, Colorado Rd from HWY 140 to Rancheria Creek Rd., Oak Rd and Yosemite Oak Rd and all of Mariposa Town, 49-N from Mariposa to Fremont Fort, Mt Bullion Cuttoff Rd-from 49-N to 72b, School Ln, Rd 72A, Princeton Rd-from 49-N to 72b, Pendola Gardens, Old Toll, Corbett Creek Rd, Mt. Ophir, Hornitos Rd, Mt Gaines, No.9 Rd and Ben Hur Rd from Hwy 49 S. to Buckeye, French Camp Rd, Fournier Rd, Mykleoaks Subdivision, W.Whitlock from 49-N to E. Whitlock and all side roads, HWY 140 from Hornitos Rd to Elizabeth Ln. Old HWY South from 49 S to Totokon, Old HWY South from 49 from Guadalupe Fire Rd to School Lane, HWY 140 from the town of Mariposa to Hornitos Rd and all side roads. E. Whitlock from Hwy 140 to W. Whitlock and all side roads. Colorado Rd and all side roads, Sherlock Rd and all side roads.
North County – Mariposa HWY 49N from Oakridge Rd. to the County Line. All roads north of Greeley Hill Rd. to the Mariposa County line, to include Dexter Rd., Cueno Rd., Smith Station Rd. to HWY 120 and ALL feeder roads, Buck Meadows Rd. north of Greeley Hill Rd. to HWY 120, Old Yosemite Rd and Bull Creek Rd. The town of Coulterville from Hwy 49N to Lower Dogtown Rd.
The Detwiler Fire Started on Sunday, July 16th just before 4PM, no cause has been determined yet.