Day Four Detwiler Fire Summary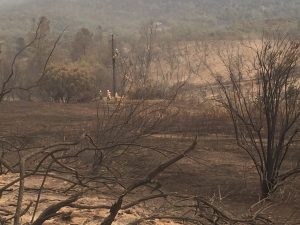 Detwiler Fire PGE Crew
Mariposa, CA — Here is the latest regarding the Detwiler Fire, which ignited Sunday, July 16th just before 4PM in Mariposa County on Detwiler Road, two miles east of Lake McClure.
CAL Fire has not updated the acreage since 8AM, when the fire size was listed at 45,724 acres and 7 percent contained. Eight structures have been destroyed so far as far as the official count goes. The towns of Mariposa and Coulterville are under mandatory evacuation orders. Detailed evacuation orders have been posted throughout the day here.
At least 1,500 homes are considered threatened and all earlier evacuation orders remain in place. The fire is also threatening power lines that supply electricity to Yosemite National Park. PG&E Fresno Division spokesman, Denny Boyles, says the Detwiler Fire is impacting 5,700 @PGE4Me customers. He says, "We restored some in Mariposa but the area remains under evac[uation] order for safety."
Tuolumne County emergency and law enforcement officials met this afternoon to coordinate efforts for supporting Mariposa County as well as preparing for potential direct impacts to local residents due to the Detwiler Fire.
CAL Fire Incident Management Team 4, the Mariposa County Sheriff's Office, and additional cooperating agencies on the Detwiler Fire are hosting a community meeting tonight at Mount Christian Center in Oakhurst, starting promptly at 7:00 p.m.  The Mount Christian Center address is 40299 HWY 49, Oakhurst, CA 93644.
The Red Cross has opened an evacuation center in Tuolumne County — and there is shelter for large and small animals — at the Mother Lode Fairgrounds. The Groveland Community Center is shutting down and moving to the Sonora fairgrounds. Other evacuations centers are at the EV Free Church on High School Road in Oakhurst; the Sierra Presbyterian Church on Highway 41 in Oakhurst; the Mountain Christian Center on Highway 49 in Oakhurst; also the Cesar Chavez Junior High on S. Plainsburg in Planada. At last count, there are an estimated 4,968 people who have evacuated.
The Merced County Farm Bureau is working with Madera, Stanislaus, and Tuolumne County farm bureaus to help the Red Cross and other emergency responders in moving large animals/livestock. Contact your local Farm Bureau for more information.
Since this morning 2,208 firefighters, 217 engines, 35 crews, nine air tankers, 11 helicopters, 35 dozers and 26 water tenders have been assigned to the Detwiler Fire, including two DC-10 airplanes out of Castle Air Force Base.
Sonora CHP wants to remind travelers that Highway 49 is closed from Highway 120 to Triangle Road and that Highway 132 is closed from Highway 49 to Horseshoe Bend.
Heavy smoke remains an issue in the region. Click here to read about health information from Tuolumne County Health Officer Dr. Liza Ortiz.
Of note on day five of the Butte Fire in 2015, which caused significant damage in Calaveras County, the fire was described as being at 65,300 acres and 25 percent contained.
On day five of the Rim Fire in 2013, 16,200 acres had burned and there was 5 percent containment.
Detwiler Fire Day 1
Detwiler Fire Day 2
Detwiler Fire Day 3
Detwiler Fire Day 4
Detwiler Fire Day 5
Officials Issue Restrictions Due To High Hazard Fire Conditions
Support For Evacuees
Day 6