Upate: Crews Gaining Upper Hand On Briceburg Fire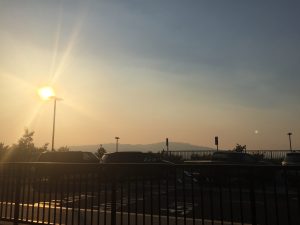 Smoke from Briceburg Fire

View Photos
Update at 1:30 p.m.: CAL Fire reports that all mandatory and advisory evacuations have been lifted. Buffalo Gulch Road has reopened to "residents only" as no through traffic is permitted. Travelers are being asked to use caution and slow down due to all the fire equipment in the area. Fire officials also warn to obey all posted speed limits as officers will be patrolling in the area. Highway 140 remains closed from the top of the Briceburg Grade to Savages Trading Post.
Returning residents should consider trees and poles with deep charring, especially ones that are still smoking, hazardous. CAL Fire advises property owners should evaluate the damage, but be aware that hazardous conditions may exist, particularly if a residence or out-building has burned. Adding that those hazards could include asbestos, heavy metals, by-products of plastic combustion and various other chemicals.
CAL Fire also notes that due to the PG&E power shut down some residents may not have electricity when returning to their homes. Additionally, Mariposa County Public Works will be at the Midpines Park daily from 9 a.m. to 3 p.m. providing free residential spoiled food waste until there is no longer a need.
The fire has been holding at around 4,905 acres and it is now officially 30-percent contained. A further timeline on the blaze is below written by News Director BJ Hansen.
Original post at 10:15 a.m.: Midpines, CA — Firefighters are making strong progress containing the Briceburg Fire in Mariposa County.
The fire has been holding at around 4,905 acres and it is now officially 30-percent contained. CAL Fire reports this morning, "Crews worked diligently overnight to reinforce and monitor containment lines with minimal fire activity."
Mop up operations will commence this morning near the established containment lines. Recent weather patterns have helped fire suppression efforts. There are over 1,700 firefighters assigned to the incident. Highway 140 is still closed from Colorado Road to Savages Trading Post. A mandatory evacuation order is in place along Highway 140 between Octagon Road and Colorado Road, Bug Hostel, all of Buffalo Gulch Road and Briceburg Campground.
October 6th Briceburg fire starts
October 7th grows to 550 acres
October 8th 1,200 acre update, Highway 140 is closed
October 9th 4,400 acre update
October 10th 25% containment update
October 11th 4,905 acre update
October 12th map, 5,190 acres
October 14th 80% containment update
October 15th 5,563 acre update
October 18th near full containment update
October 24th full containment