Update: Progress Made Fighting Briceburg Fire In Mariposa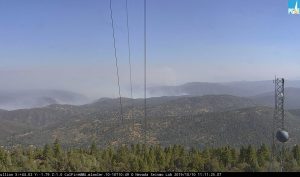 Briceburg Fire from Alertwildfire PGE

View Photos
Update at 3:45 p.m.: While the Briceburg Fire's acreage is holding steady at 4,900 acres,, CAL Fire is reporting that one structure has been destroyed. However, details regarding what type of building has been lost are not being released at this time.
The blaze continues to bring drift smoke into the Mother Lode region. Its containment remains at 25 percent, which is an estimated 1,225 acres.
All mandatory evacuations and advisory evacuations remain in place. Also, Highway 140 is still closed from Colorado Road to Savages Trading Post. A timeline of the fire is below.
News Director BJ Hansen contributed to this article.
Original post at 11:15 a.m.: Midpines, CA — Firefighters are working to successfully gain containment on the Briceburg Fire near Midpines in Mariposa County.
It is now 25-percent contained and 4,900 acres. It is still resulting in quite a bit of drift smoke throughout the Mother Lode region. CAL Fire reports, "Overnight firefighters made good progress towards containment. Efforts today will remain focused on fire line construction and strengthening contingency lines. Evacuation orders and advisories remain unchanged from previous updates."
Highway 140 remains closed from Colorado Road to Savages Trading Post. 1,379 firefighters are assigned to the incident. An evacuation center remains open at the New Life Christian Church.
Because of the fire, the Mariposa High football game Friday against Waterford is being relocated to Waterford.
October 6th Briceburg fire starts
October 7th grows to 550 acres
October 8th 1,200 acre update, Highway 140 is closed
October 9th 4,400 acre update
October 11th 4,905 acre update
October 12th map, 5,190 acres
October 14th 80% containment update
October 15th 5,563 acre update
October 18th near full containment update
October 24th full containment