Update: Fire Ignites Near Briceburg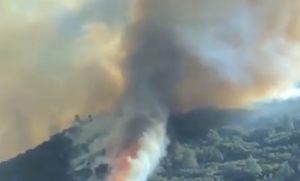 Briceburg Fire in Mariposa County

View Photo
Update at 5:45pm: CAL Fire reports that the Briceburg Fire is 20 acres in size and there is no word yet on any containment. The Mariposa County Sheriff's Office notes that there is an evacuation advisory for Rancheria Creek Road and Rumley Mine Road, but stress it is not a mandatory evacuation notice. Highway 140 is closed near the fire area, a few miles east of Briceberg.
Original story at 3:15pm: Briceburg, CA — Resources from the region are helping to battle a fire near Highway 140 in the Briceburg area.
It started during the two o'clock hour. Initial reports were the fire was about five acres and had the potential for more growth. Be prepared for activity and aircraft headed that direction.
October 7th grows to 550 acres
October 8th 1,200 acre update, Highway 140 is closed
October 9th 4,400 acre update
October 10th 25% containment update
October 11th 4,905 acre update
October 12th map, 5,190 acres
October 14th 80% containment update
October 15th 5,563 acre update
October 18th near full containment update
October 24th full containment