Update: Briceburg Fire Now At 4,400 Acres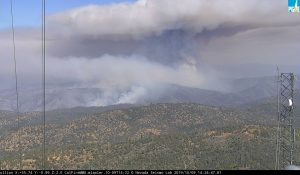 Briceburg Fire 10/9/19 2:30pm
Update at 2pm: The Briceburg Fire in Mariposa County has increased by 800 acres and is 10-percent contained.
According to CAL Fire spokesperson Emily Kilgore, the blaze, burning off Highway 140 and Briceburg Bridge Road north of Midpines is currently estimated at 4,400 acres. She says the existing mandatory evacuations remain in place.
Original Post at 8:19am: Mariposa County, CA — The Briceburg Fire in Mariposa County has now grown to 3,600 acres and it is 10-percent contained.
The fire near Midpines has been putting off quite a bit of drift smoke in the surrounding region this morning.
Highway 140 remains closed north of Midpines, near the fire, and it is impacting travel in that area to Yosemite National Park. Areas along Highway 140 including Octagon Road, Bug Hostel, Buffalo Gulch Road and Briceburg Campground are all under a mandatory evacuation order.
Air and ground resources will continue to battle the fire throughout the day.
Tori James and Tracey Petersen also contributed to this report.
October 6th Briceburg fire starts
October 7th grows to 550 acres
October 8th 1,200 acre update, Highway 140 is closed
October 9th 4,400 acre update
October 10th 25% containment update
October 11th 4,905 acre update
October 12th map, 5,190 acres
October 14th 80% containment update
October 15th 5,563 acre update
October 18th near full containment update
October 24th full containment