Update: Summerville High Shooting Plot Suspects To Remain Behind Bars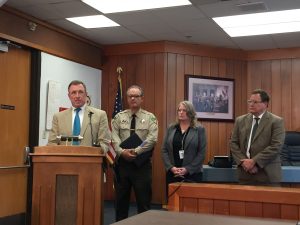 Press Conference On Summerville High's Planned Attack

View Photos
Update at 3pm: The four student suspects, each now facing eight felony counts for the plotting a mass shooting on the Summerville campus, will remain in juvenile hall — at least for now. At a closed detention hearing this afternoon, Tuolumne County Judge James Boscoe agreed with District Attorney Laura Krieg that the minors should remain in custody. However, Boscoe agreed to continue the detention hearing until October 13 at 3:30 p.m., at the request of the suspects counsel, where he will again rule on the issue of their incarceration.
Original Post at 10am: Sonora, CA — The four students arrested in the alleged Summerville Union High School shooting plot uncovered last week will be at a detention hearing this afternoon, facing eight felony counts.
The hearing is closed due to the fact the suspects are minors. It is scheduled for 1 p.m. in a Tuolumne County Superior courtroom with Judge James Boscoe presiding. At issue is whether the suspects should remain in juvenile hall. County District Attorney Laura Krieg says, "I believe that their actions have consequences and that they need to remain detained." As previously reported, the four students' plan for an on-campus attack was revealed after classmates who had heard them discussing it alerted a teacher who then reported it to administrators.
Each of the four students is charged with eight felony counts with conspiracy to commit assault likely to cause great bodily injury, which carries a maximum 11-year sentence, if convicted. Krieg comments, "We are taking this case very seriously. There was corroboration for some of these threats. In light of tragedies across the country, threats will be taken very seriously by law enforcement and the District Attorney of this county." However, when asked about considering adult charges against the four, Krieg states that the charge of conspiracy to commit the acts is not an offense for which she can legally "direct file" to charge them as adults.
With regard to the students who exposed the plot, Krieg gratefully states, "They're heroes, quite frankly. Sometimes people hear things and think they can't be serious, but these students took the information seriously. They immediately notified school authorities. They should be applauded. Thankfully, this was stopped — and thankfully, we don't know just how bad it could have been."
As previously reported, the school, which is still recovering from the shock of the planned shooting, held a Monday school assembly followed by a public meeting that evening where parents could hear from and query administrators and county sheriff.
Of note, It was last week that Clarke Broadcasting published a three-part series on school safety in Tuolumne County schools. Click here to access those articles.
Update 10/19/15: About Summerville Suspects