Summerville Parents Seek Answers And Offer Praise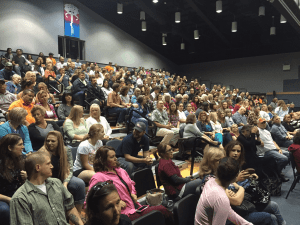 Summerville Parents Hear About Planned Shooting

View Photos
Tuolumne, CA — There was a standing room only crowd at Summerville High School's theater Monday evening as parents came to hear about a thwarted mass shooting on campus.
Many parents offered praise to the students that tipped off officials, as well as school staff, and law enforcement, for preventing what could have very well been a "Columbine" type event. However, just as loud applause was heard at times when parents asked pointed questions as to why certain things were not handled differently.
During the opening statements, Superintendent Robert Griffith noted that students reported to staff during the two o'clock hour on Wednesday that some fellow classmates were having a discussion about plans to shoot students and staff members. The teacher notified the school administrators, and the three initial suspects were quickly removed from the classroom. A quick search for weapons was carried out, but none were found. Click here to view a video of Superintendent Griffith's opening statements detailing the timeline.
It was revealed, however, following a pointed question from a parent, that those three initial students were then allowed to go home on Wednesday afternoon on the bus. It appeared from the response of school administrators that there was not a perceived belief at that point that the suspects posed any immediate danger to the other students. Principal David Johnstone then stepped to the podium and acknowledged that it was not the best decision, in hindsight. After school dismissed on Wednesday, and the students left, the Tuolumne County Sheriff's Office was notified by school officials about the situation, and an investigation quickly got underway. The three initial suspects did not return to school from that point on. A fourth suspect was also later identified, and on Friday afternoon, arrests were made. It was acknowledged by school staff, following another parent question, that the fourth suspect was in fact on campus attending classes on Friday.
A question was also posed as to why the first three initial suspects were not immediately arrested that first Wednesday, and Sheriff Mele indicated that investigations take time, and suspects have rights during that period. Click here to view video of the Sheriff's response.
One person also drew loud applause by making the claim that the school administration overly downplayed the severity of the incident, last Thursday, noting that an automatic phone call sent to parents that afternoon, merely noted that there was a disturbance on campus and that it had been dealt with. There was no mention, however, of any type of shooting plot.
Another notable item that came from the meeting was the announcement that additional Sheriff's Deputies, and security, will be on hand for this Friday's Summerville and Sonora High football game. The school will also cap attendance at 2,500.
Deputies will also be making more appearances on campus over the coming days, to ensure that students feel safe. The Sheriff also acknowledged that he has had conversations with some of the Tuolumne County Supervisors this week about looking to fund deputies on school campuses on a more permanent basis, given the changing times.
One parent also drew applause by angrily calling out the high number of media members at Summerville High School over the past 24 hours, noting that TV stations had cameras on campus earlier in the morning when students arrived, and during a student assembly. She argued that it is not helping kids to get through this difficult time, and learn, by having the attention of cameras placed in their face.
Another parent also challenged the school community to investigate what happened to these four young students that went down the wrong path. She argued that this deeper question could prevent future type events from occurring.
Many parents still had questions at the end of the meeting, which lasted just over an hour, and Superintendent Griffith encouraged them to contact him directly, and he would look into creating a question and answer sheet that could be sent out to other interested parents as well.