Summerville Recovering, Moving Forward From Thwarted Shooters' Plan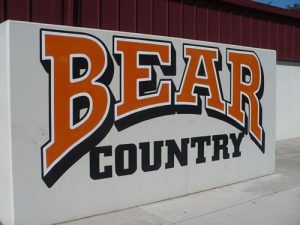 Summerville High School Bear Country sign

View Photos
Tuolumne, CA — A special assembly was held Monday morning at Summerville High School following news that broke late last week of a planned mass shooting on campus.
As previously reported, the Tuolumne County Sheriff's Office held a press conference Saturday to announce an ongoing investigation resulting from disturbing tips it received a few days earlier that had revealed plans by four male Summerville High School students for an on-campus shooting. All four were later arrested and taken away to a juvenile detention facility out of the county.
According to District School Superintendent Robert Griffith, Tuolumne County Sheriff Jim Mele was on hand for the assembly and that two students were also among those who addressed an audience that included students, several parents and the entire school staff. Overall, Griffith described the atmosphere as very positive.
"It's a new day with a little cloud hanging over the school, with that sense of fear and anxiety…hopefully our assembly took some steps to address that directly," Griffith states. Continuing on he shares, "What we emphasized…the trust and reliability of students to come forward…and the fact that an unbroken chain…from a student to a teacher, to the administration to Tuolumne County Sheriff's Department worked to a T, in that the information was discovered and very quickly dealt with." He calls the critical communication that led to the arrests "a real success story" of what it means for students to be aware, take what others say seriously, and then to trust the adults around them to share what might be concerning to them.
After today's assembly, Sheriff Mele added, "I can't stress enough how important it is that these students came forward and told staff. Historically, we know that people that want to harm other people often share those thoughts and those feelings. Generally, they go unreported [until after an incident]. It works when you go forward and let the proper authority know what you see, hear and observe."
What is key for students to understand is the same for everyone, as Griffith points out: "I think what kids should be aware of is the same thing that adults and all of us should be aware of, and that is…your surroundings…what people are saying…doing. When something doesn't look right…feel right…when you just sense there's some kind of danger – people saying bizarre things – then that's why there are people in our society that we can report that to, and they can take action."
While student attendance on Monday was "definitely down," according to Griffith, it was not "catastrophically" down. He chalks it up to parents still feeling apprehensive over the situation. "It just takes time to kind of re-acclimate — it was a weekend in which there was a lot of social media flying around and concerns — and so, as we can answer questions and meet with people, hopefully we'll get them all re-plugged in," he states.
Moving forward, Griffith explains, "We have some counselors on campus provided by the Tuolumne County Superintendent of Schools Office…we're definitely appreciative for that, and we have quite a few students that are accessing that." Focusing on the future, Griffith says there are plans for a Kindness Week and other supportive actions and activities.  He adds that maintaining an environment for students to thrive instead of developing fractured relationships is critical to the process.