Sheriff Mele: No Further Threat To Students Or Staff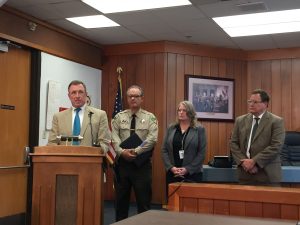 Press Conference On Summerville High's Planned Attack
Sonora, CA — Tuolumne County Sheriff Jim Mele led a press conference this afternoon detailing the arrests of four students at Summerville High that were plotting a mass shooting.
Also on hand were Summerville High School Superintendent Robert Griffith, Assistant County Schools Superintendent Cathy Parker and Deputy Tuolumne County District Attorney Eric Hovatter.
All four students were arrested and turned over to the Tuolumne County Probation Department. The names are not being released by law enforcement because they are minors. It was noted that all of the suspects are males.
During his opening statement, Sheriff Mele said, "At this time, I want to reassure the community that there is no further threat to the students or staff."
He also said, "It should be noted that the families of all four suspects were cooperative with our investigation."
School administrators were thankfully tipped by concerned students about suspicious activity of their fellow classmates.
The Sheriff disclosed that the suspects were plotting to carry out a shooting at an upcoming event on campus, and declined, when questioned, to name the specific event. Mele did disclose, "They were going to come on campus and shoot and kill as many people as possible at the campus."
The evidence that was spotted by the fellow classmates was not divulged. When the school administrators heard of the suspicious activities, the suspects were pulled out of class. They were eventually taken into custody by the Sheriff's Office and later taken to the Probation Department.
You can hear the full audio from the press conference by clicking here. Some of the questions posed from the audience are difficult to hear, but the responses by the officials are clear.
You can also click here to view video of a portion of Sheriff Mele's opening statements.
The initial news story "Assault Plot Thwarted at Summerville High" was published Saturday October 3rd at 11:14pm here.
Update 10/7/15: Suspects remain behind bars.