Tuolumne County Juvenile Detention Facility Update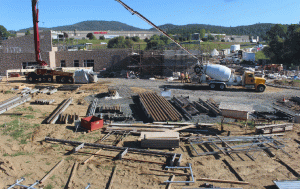 Juvenile Detention Facility

View Photos
Sonora, CA — The Tuolumne County Board of Supervisors received a brief update on the Jail and Juvenile Detention Facility at their meeting. Administrative Officer Craig Pedro says "We continue to be very busy with the juvenile site." From Highway 108 the walls of the Juvenile Detention Facility can be seen as the building goes up. The project was scheduled to take 420 days (14 months) with a completion date of August 4, 2016, that was later revised as reported in news story here.
CAO Pedro also said, "The jail continues, it is moving right along in design development. They're still looking at wrapping up that phase of the design by June, and hope to have the project established with the state board that same month." Previously reported details about the jail project are here.
A webcam has been set up to monitor construction at the Juvenile Detention Facility site. It is listed in our multimedia section with other local webcams here. The image is not streaming, but updates every 15 minutes with a time lapse video of the construction since the camera was placed here.
The Juvenile Detention Facility plans to initially open with 10 beds and 10.5 staff members in November 2016. It will be used by other counties, such as Calaveras and Amador and was paid for with a $16-million state grant. The news story covering the beginning of construction is here. The facility is located at 12784 Justice Center Drive in Sonora, on the Law and Justice property off Old Ward's Ferry Road. The site is also planned to someday also house a new county jail as detailed here, courthouse and other amenities including a transit center detailed here.