County Celebrates Juvenile Detention Facility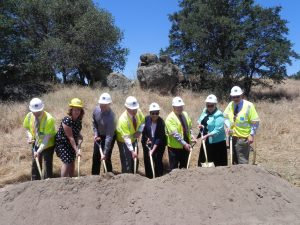 Law And Justice Groundbreaking

View Photos
Sonora, CA — Tuolumne County leaders celebrated the breaking of ground for the Mother Lode Regional Juvenile Detention Facility. A ceremony was held this afternoon out at the site off of Old Wards Ferry Road.
Chief Probation Officer Adele Arnold said, "It has been 17 years that the county has been tenacious and continued to work towards this project of bringing a local detention facility into Tuolumne County. It's exciting to see because it's going to give us local control over programming, and allow us to not have our youth so far away."
Currently minors are transported to facilities outside the area for rehabilitation programs.
County Administrator Craig Pedro added, "This is going to be really important to some of the youth in our community that have had struggles, for a variety of reasons, and we're going to be able to better care for them here, and make sure they are set on the right path, in a way that we couldn't before."
While the mood of the event was mostly celebratory, there was one protestor outside that had a different take on the project. Tuolumne County resident Barbara Farkas was holding a sign that read "This taxpayer says NO to funding prisons for kids at $200,000+ per year."
Farkas told Clarke Broadcasting, "My issue is the lack of public input during the original process of purchasing the property, as well as during all of the negotiations and plans to develop a youth prison, for maybe two children from our own community."
The juvenile hall will be utilized by other counties, such as Calaveras and Amador. The construction costs will be covered by a $16-million state grant. There will be 30 beds available. The project is expected to be completed in November of 2016.
The Law and Justice Center site is also planned to someday also house a new county jail, courthouse and other amenities.