Despite Increase In Cost, Tuolumne Jail Project Moves Ahead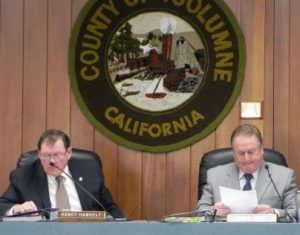 Tuolumne County Board of Supervisors (Randy Hanvelt and John Gray)

View Photos
Sonora, CA — The Tuolumne County Board of Supervisors unanimously approved the Tuolumne County Jail project budget. The total base project cost was approved for $38.6 million, reduced at the direction of the board, from a previous estimate of $39.5 million by $846,000. Tuolumne County Administrator Craig Pedro says, "That's good work in order to knock out almost a million dollars from the revised estimate presented in December." The project, as approved, is almost $2.6 million over a hoped for budget of $36 million.
Two alternate plans to reduce the initial base cost of the jail project involved hiring three or six additional deputies. The alternate plans were presented by CAO Pedro as costing more in eight to three years respectively. Supervisor District 2 Randy Hanvelt said, "We can not compromise the functionality of the jail and then save a few pennies on the front end to pay for it later. Putting deputies at risk just doesn't make sense to me."
The board also approved Lionakis, an architecture and engineering firm, for phase two of the design process. Phase two will finalize the plans for the new Tuolumne County Jail's design and the firm will participate in the project through its completion for a cost not to exceed $3.2 million.
There were no comments from the public about the jail project at the meeting. Supervisor Hanvelt noted the risk and cost of AB 109 complicated by prop 47 saying, "We have the worst jail in the state of California in terms of its functionality and its capacity to meet the needs of Tuolumne County. We get cited every year by the grand jury."
The board will need to address how to pay for the project. When it is complete in four years the jail project is projected to be $11.8 million over the revenue the county projects it will have. CAO Pedro notes projected long term costs after the jail project is completed are the Jamestown mine environmental cleanup and various funds set aside for pension liabilities. He says, "We haven't borrowed a lot of money over the years. We pay it off as quickly as we can and it is relatively minor compared to what most other jurisdictions have. That doesn't mean go ahead and let's load it up, it means we have capacity for the things we need to borrow for."
The board unanimously agreed to review the county and jail project's budget every six months to work out how much of a loan and borrowing money from other areas of the county budget is needed.