Monitoring Juvenile Detention Facility Construction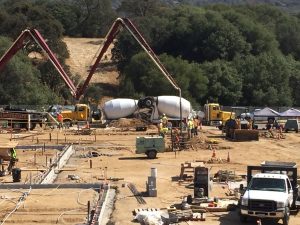 Juvenile Detention Facility Construction

View Photos
Sonora, CA — The Tuolumne County Board of Supervisors received an update on the Juvenile Detention Facility and problems that rocks in the soil have caused.
Maureen Frank, Deputy County Administrator reports the planned construction time is already 20% over. The project was scheduled to take 420 days (14 months) with a completion date of August 4, 2016. The report states all rough grading of site is completed, the area is being prepared and certified for the building pad, underground utility work and water tie-ins.
Frank reports the contractor has requested 28 more working days and the request is currently under review. Frank says, "it will be something most likely less than that," She added later, "I don't have any definites. We are still negotiating the amount and the days with the contractor." Frank assured the Board an allowance was planned for extra rock work in the grant money from the state.
Frank agreed with Shawn Strohman, construction manager with Vanir Construction Management, "we continue to push the contractor as we know this could be a wet year." The reports states, in addition to winter weather, various state agency review times including the state fire marshal's office, could take two to three months for approval and further delay the project.
Frank explains, "One of the concerns that we had out on site was we ran into rock, no surprise, this is Tuolumne County. It was a little more excessive than we would have wanted but we had a great local firm, Njirich & Sons, who's working with the contractor and working with us in expediting the removal of that rock …to get a certified pad ready for us to be able to start [building] now, up… vertical." Strohman further explains, due to how close the site is to Highway 108, blasting with dynamite is not allowed. The rock removal process was described as "boulder busting" where a hole drilled into a rock is filled with water and a shock wave through the water breaks the rock apart. In other areas Strohman noted expanding material was used. Strohman confirmed the rock that was removed is available on site in two stockpiles for other county projects.
A webcam has been set up to monitor the site. It is listed in our multimedia section with other local webcams here. The image is not streaming, but updates every 15 minutes with a time lapse video of the construction since the camera was placed here.
The facility plans to initially open with 10 beds and 10.5 staff members in November 2016. It will be utilized by other counties, such as Calaveras and Amador paid for with a $16-million state grant. The news story covering the beginning of construction is here. The facility is located at 12784 Justice Center Drive in Sonora, on the Law and Justice property off Old Ward's Ferry Road. The site is also planned to someday also house a new county jail as detailed here, courthouse and other amenities including a transit center detailed here.