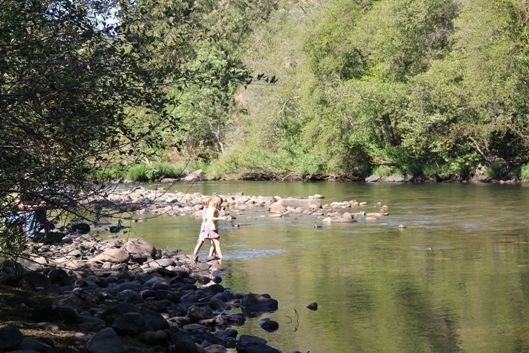 Kids enjoy the Mokelumne River

View Photos
San Andreas, CA –   The Calaveras County Water District (CCWD) Board got an update on the possible Lake Tulloch draw down and voted on whether to back a bill to study the impact of the state's "wild and scenic" designation for the Mokelumne River.
In a 4 to 0 vote, with one member absent, the board approved to send a letter of support for Mother Lode Assemblyman Frank Bigelow's bill (AB142) that requires an impact study on the local water districts before any state law can be enacted declaring the Mokelumne River as a State Wild and Scenic River.  As previously reported, SB1199 would bestow that designation to 37 miles of the North Fork and main Mokelumne River.  CCWD spokesperson Joel Metzger explains the board's concern is with a line in the bill; it interprets the statement as indicating anything that would take away from the free flowing character of the river or impair that would not be allowed.  He adds, "They [the board] are concerned…if we ever need to build a facility or make a diversion…that might be challenged based on that language."  Proponents of the designation have called Bigelow's bill a "stall tactic."
The board also got some good news regarding Lake Tulloch, according to Metzger.  As reported yesterday, the feds have stated that any draw down would likely take place in September.  Metzger says even if that happens the lake level is not expected to go below the district's intake value so Copperopolis customers will not be affected.  However, if the drought continues, Metzger says, "It would only be prudent to plan for the level going down further, and that is why we are continuing to pursue state funding in order to help us extend CCWD's intake farther down into the river canyon, so we'll be ready if that level does drop further."
The cost to lengthen the pipes, add pumps and hire underwater divers to do the work, as previously reported, would cost the district a minimum of $100,000.