Lake Tulloch Draw Costly for CCWD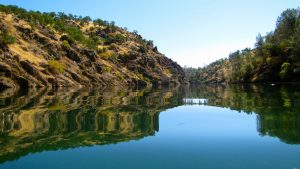 Lake Tulloch

View Photos
San Andreas, CA – Word that the Oakdale Irrigation District (OID) may severely draw on Lake Tulloch this summer to help fish and farmers downstream came as "a surprise" to Calaveras County Water District (CCWD) officials who say they received no notification from OID even though 2,500 Copperopolis customers would be affected.
As previously reported, OID General Manager Steve Knell called it "a last resort" if the Stanislaus River water supply does not significantly improve by April.  CCWD spokesperson Joel Metzger says, "Drawing the reservoir could get costly, if the water level drops below the district's water intake pumps that service the treatment plant, it would require extending the intake pipe system."  Lengthening the pipes, installing additional pumps and hiring divers for underwater work would cost the District a minimum of $100,000, according to Bill Perley, CCWD director of utility services.
Metzger says CCWD will be in constant contact with the Oakdale and South San Joaquin Irrigation Districts as well as the Tri-Dam Project.  He adds the district is looking at its options including lobbying to keep the reservoir up, taking advantage of any available funding and resources the district has to continue providing water for customers.
"This is no reason to panic," says Metzger.  "This drought is definitely presenting challenges but if we come together and think creatively, we'll get through this together."