Tulloch Water Issues Waiting On Fed Input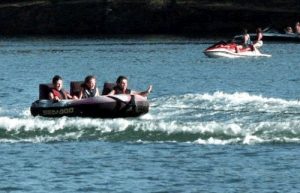 Lake Tulloch Recreation

View Photos
San Andreas, CA — Even as the Calaveras County Board of Supervisors worked to gather stakeholder input at its Tuesday meeting, supportive wheels continue turning towards mitigating federal fish protection laws that may call for tapping Lake Tulloch this summer.
According to Oakdale Irrigation District (OID) General Manager Steve Knell, "We're all waiting, the South San Joaquin Irrigation District, Oakdale, and even [the] Tri-Dam [Partnership]. We're waiting for the federal government to determine if they are going to be allowed to change some of the flow requirements that are required under both their biological opinion and state law — which is their operating permit — and reduce those flow requirements."
Knell reports that in Sacramento last Thursday, during a meeting with federal officials, the partnership provided an operations plan for the National Marine Fisheries Service to consider as part of a change petition to reduce water quality requirements with the goal of still maintaining a sustainable reservoir. "There's no guarantee yet, but if they can do that, we have a good likelihood that we may not have to draw upon the reservoir, or it may be very little," Knell explains. "The goal is to get us all through September and not have pulled down Tulloch significantly at all."
Water Temps Are Key
However, Knell warns, "One of the key issues that we are going to need to avoid is a spiking of high temperatures in the river that could be lethal to some of the protected river fisheries. We are having model runs done this week if those temperature spikes will be reached or not. If they are reached, we may not have any recourse but to put water down the river to keep the downstream waters cool enough that the fish can survive."
Ruefully, he states, "It's not a call that the district can make, it is a federal decision on how they are going to manage those temperatures and how much they are going to allow variants from what they consider to be protective temperatures in the river." Unfortunately, as Knell points out, "Their job is very myopic, so [to change] their opinion, they have to have substantial assurances that the temperatures spikes…are not going to be lethal to the fisheries. We're really at their mercy and so we are waiting to see, if they can cut a little slack, and we can do some extraordinary conservation measures within our districts, we might make it through this year."
And what might that look like, considering federal fisheries laws, the current extreme dryness of the watershed and prospects for significant rainfall? According to Knell, "It means that, come late summer, New Melones and the other upstream water bodies are empty…Keep in mind that Tulloch is the last storage facility, so everything upstream drains first."
Customer, Business, Recreation Needs
On the bright side, Knell states, when drought conditions last required tapping Lake Tulloch waters back in the early 1990s, it was drawn down to an elevation that still allowed those who needed drinking water from the reservoir to get it. "So you can take the drinking water issues off the table," he says. If it is possible, waiting until late summer or after Labor Day to tap Tulloch, Knell says, will also help sustain the needs of potentially impacted businesses whose peak times lead up to and extend just after the July Fourth holiday weekend and minimally impact the season for recreational users. "Can we get through Labor Day Weekend at this point, it is difficult to say. Trying to meet the needs as best we can in the fourth year of a very significant drought is still not a bad outcome," he states.
According to Congressman Tom McClintock's office, which sent a representative to the supervisors' meeting, McClintock is preparing a call to action letter that will circulate, optimally, by the end of the week to state lawmakers and President Barack Obama. The congressman also plans to hold a meeting with Lake Tulloch constituents on Saturday, March 28, the time and venue to shortly be announced.