Update: MOC Fire, Five Percent Contained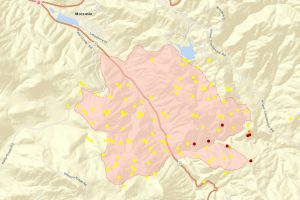 The Moc Fire flame activity National Fire Situational Awareness map 3:30 p.m. 8-22-20

View Photos
Update at 8:15 p.m.: Crews gained five percent containment on the Moc Fire today while keeping the acreage at 2,800. There still remains 1,500 homes and businesses threatened by the flames that ignited in the Moccasin area of Tuolumne County on Thursday afternoon. Additional resources have joined the firefight bringing the current numbers to 697 personnel, 91 engines, 11 water tenders, 21 hand crews, 14 dozers, and 3 helicopters.
CAL Fire relays the most active fire is in the Jackass Creek drainage area and that is where crews have been targeting their efforts today and will continue to do so overnight. Below is an update from CAL Fire regarding concerns due to storms moving into the area. All evacuations and road details are also below.
Update 7:15 p.m.:  CAL Fire is worried about a new threat to the Moc Fire area – stormy weather bringing lightning. That could delay residents getting back into there homes faster, according to CAL Fire spokesperson David Lauchner who released a statement detailing those concerns and updating fire suppression efforts:
"CAL Fire crews continue to aggressively battle the MOC fire with a primary emphasis on the life safety of civilians and firefighters. Crews have been working tirelessly to start gaining containment on the fire while also preventing the forward spread. Over the past 24 hours, we have had numerous additional resources arrive on the incident and begin working. This is allowing firefighters to secure areas that have burned and support containment increases.
Currently, the fire is active in the area of Jackass Creek drainage. This is rugged terrain and difficult for crews to make access. Firefighters are attacking the fire by ground and air resources. There has been an increase in fire behavior in this area, which continues to pose a significant threat to the evacuated communities. The National Weather forecast has issued a Red Flag Warning from 5:00 AM Sunday to 11:00 PM Monday. They are projecting a dry lightning storm accompanied by wind and low humidity. This combination of weather has the potential to negatively affect our progress and possibly increase the spread of the fire. It also has potential for new lightning strikes which could possibly cause new fires in the area. We cannot stress enough, that our number one priority is keeping our community members safe.
As we move through the next few days and evaluate the changing conditions, we will reevaluate the evacuation orders."
Clarke Broadcasting has been following the inclement weather moving into the region, click here for those details.
Update at 3 p.m.: The Moc Fire's size remains 2,800 acres with zero containment. CAL Fire spokesperson Dave Lauchner give Clarke Broadcasting an update on the blazes' activity and suppression efforts.
He details that crews had a good favorable day yesterday and overnight with the winds and heat down, which kept the flames to the area it is currently occupying. When asked why there is no containment when the fire's size has not changed since Friday morning, as reported here, he explained, "The fire, it's not burning 100 percent around it. We just can't call it contained because we haven't 100 percent confirmed, by getting crews around it to make sure that the fire has been mitigated, in those areas. I project by tonight we will have some numbers for you."
As the fire map in the image box shows, most of the new fire activity is in the Jackass Creek drainage area with the red dots signaling flames active in the last 12 hours, orange is 12-24 hours old, and yellow is greater than 24 hours. Lauchner details, "That's the place we're really focusing on today to prevent that from breaking out of that. As long as the weather holds, we should have enough crews up there to hopefully get some good work done up there today."
Although all evacuation orders were lifted at noon for the Moccasin Hetch Hetchy Power Plant, Lauchner does not foresee any additional releases, stating, "If it does break out of that drainage, it could make a run-up that hill, potentially at Groveland. So, instead of repopulation Groveland and then having something go south on us and then having to evacuate them again, were going to hold the evacuations for now."
He adds that the power in the fire area will also remain off until crews get a line completely around the blaze and start lifting more evacuations. He stresses, however, that law enforcement is in the evacuated areas keeping an eye on properties. He ensures, "Tuolumne and Mariposa county sheriff's, and the CHP in their respective areas, they are all out there all day long, 24 hours a day, patrolling the areas."
Information regarding the lifting of the Moccasin Hetch-Hetchy plant is below with an update on the current evacuations and road closures.
Update a 12:10 p.m.: Tuolumne County Sheriff's office relays the lifting of evacuation orders for one area of the Moc Fire. Sheriff's officials state that all mandatory evacuation orders and fire advisements for the Moccasin Hetch Hetchy Power Plant have been lifted.
CAL Fire reports that due to a large amount of fire suppression equipment in the area, speed control will be enforced.
Provided updated road closures:
Hwy 49N from Penon Blanco to Hwy 120
All North intersecting roads on Greeley Hill Road (J132) / Smith Station from Priest
Coulterville to the Mariposa / Tuolumne County
Open Roads: Open with no restrictions
Greeley Hill (J132) / Smith Station
Fire WARNING Area:
Hwy 49 North from the Mariposa / Tuolumne County Line to Mary Harrison Mine
Rd and all side roads
Coulterville- From 4700 Block of J132 to Priest Coulterville Rd
Greeley Hill- All roads South on Greeley Hill Road (J132) from Priest Coulterville to
Smith Station
Safety Message- Trees and poles with deep charring, particularly if still smoking, should be considered hazardous.
Tuolumne County OES provided this list of current evacuated areas:
Moccasin
Marshes Flat Rd to Moccasin Ranch Estates
Old and New Priest Grade
Priest Coulterville Rd.
Second Garrote
Yosemite Springs
Old Hwy 120
All of Big Oak Flat
Wards Ferry Rd
Merrell Rd
Hwy 120 all the way to Smith Station Rd.
Pine Mountain Lake
All of Ferretti Rd
Basically all of Hwy 120 and up to Smith station.  All the roads off the highway and beyond.
Update at 8 a.m.: Here are the latest details just released by CAL Fire on the Moc Fire burning in the Moccasin area of Tuolumne County on both sides of Highway 49.
Crews were able to keep the acreage holding at 2,800 acres overnight, but gain no containment, so it remains at zero. CAL Fire updated that the numbers of structures threatened has dropped from 3,500, reported yesterday, to 1,500 with none destroyed or damage. There is concern regarding a threat to critical power and water distribution infrastructure for the City of San Francisco, PG&E and the Moccasin Fish Hatchery, according to incident command.
All the evacuations and road closures remain in place for both Tuolumne and Mariposa counties. Evacuation centers remain at the Mariposa Fairgrounds, which is taking small pets, and the Mother Lode Fairgrounds in Sonora where pets and livestock are allowed. Current resources on scene include 470 personnel, 77 engines, 11 water tenders, 12 hand crews, 12 dozers, and 3 helicopters. CAL Fire details that numerous firefighting air tankers from across the state are flying fire suppression missions as conditions allow. What sparked the blaze is under investigation.
Original post at 6 a.m.: Tuolumne County, CA — CAL Fire Incident command is reporting that the Moc Fire that was ignited on Thursday afternoon in the Moccasin area and forced hundreds of evacuations is holding steady at 2,800 acres with no significant growth and zero containment.
Dispatch details that more resources arrived on the scene last night to give firefighters who had been on the front lines for 48 hours a much-needed rest. Here is a breakdown of the resources battling the blaze: 470 personnel, 12 crews, 11 water tenders, 12 dozers, and one air tanker battling the blaze.
There remain about 3,500 homes threatened with no total on the number of businesses or how many people have been evacuated. Currently, CAL Fire reports that no structures have been damaged. All evacuation orders and road closures remain in place for both Tuolumne County and Mariposa County, as reported here yesterday. A map of the evacuations zones is in the image box.
Tuolumne County Sheriff Bill Pooley on Friday afternoon released a statement regarding citizens' inquiries as to why the evacuation zone was so large. He explained the need for the stepped-up evacuation plan, stating, "Based on the difficult terrain, lack of resources and fire behavior, the ability for people to escape the Big Oak Flat and Groveland communities caused me and our CalFire partners great concern. In collaboration with CalFire, I initiated mandatory evacuations. This was a calculated effort taking into consideration all electricity had been shut off which greatly impacts our ability to communicate and alert the public of rapidly changing circumstances." His full statement can be found here.
Tuolumne County OES officials also pointed to these factors for the decision to expand the evacuation orders: the location of the fire, weather, limited resources, and the lack of ingress and egress routes for the Big Oak Flat and Groveland communities. Both added that the top priority is the "preservation of life", and to avoid a "catastrophe that has been witnessed in other communities."