Superintendent Shares 'Wish List' Of 7-11 Dome Committee Candidates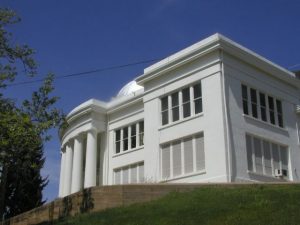 Sonora Dome

View Photo
Sonora, CA – Plans are moving forward to form a special group to help bring about a brighter future for Sonora's historic Dome building.
At Tuesday night's relatively brief meeting of the Sonora Union High School District trustees, the board voted to establish a new 7-11 advisory committee that will revisit the possibility of declaring as surplus the Dome parcel and at least a portion of the adjacent property that serves as the district's alternative education campus.
Past efforts to sell just the Dome have been far from fruitful due to its limited parking area.
This time around, Superintendent Dr. Mark Miller says the trustees will be looking for applicants who can offer specific perspectives and expertise that will be conducive to a successful outcome.
Miller describes the board's wish list as follows: "We are looking for several different types of people; a landowner or renter, hopefully, someone in the neighborhood; a parent of a student; a teacher; a business community member, hopefully a realtor who knows the local market; hopefully someone from city or county government; and hopefully someone with expertise in building codes, zoning restrictions…possibly an attorney or an appraiser."
He adds that the application is being developed and should be ready to post to the district's website within the next week or so. Entries will be due by Aug. 31.
Dust Still Settling Over Wildcat Ranch Issues 
Although Miller says there was nothing to report out regarding a closed session discussion of Wildcat Ranch related legal matters still pending, he shares that the district responded to an open letter from the would-be buyers, the Park Foundation, over the district's decision to rescind the sale. The letter, sent to the Park Foundation attorney, included an explanation of the district's situation to halt the sale in the wake of a lawsuit filed by the Tuolumne County Farm Bureau, which officially settled last week.
Asked whether the Farm Bureau has offered to provide any additional support to the district's agricultural education programs, especially since under the recently reported settlement agreement, the district is paying the bureau's legal fees, Miller only noted that members of the organization attended the trustees' meeting and voiced opinions on the district's Wildcat Ranch dealings.
At any rate, he notes, "We probably want to wait to make any moves at all until after we settle with the Park Foundation."
As for possibilities down the line for potentially locating the alt ed campus on the Wildcat Ranch property, since it remains a district asset, Miller replies, "Oh, I don't know. That is way in the future and speculative at this point. I don't see our finances being at a point, even if we get a price for the Dome, that we could afford to locate an alt ed program out there."
Miller continues, "The big thing for us now…is getting our new principal [Lance Morrow]…up and coming and getting him out into the community, so he can start meeting folks — and getting ready to start the new school year because it will be upon it before we know it."