Utility Wildfire Fund One Step Closer To Reality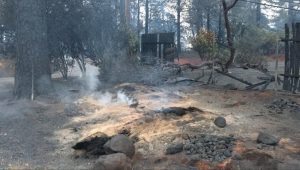 Camp Fire Destruction

View Photo
Sacramento, CA — Calling it a plan that holds utilities accountable and protects ratepayers, California senators have approved a bill aimed at stabilizing the state's electric companies and focusing on safety after several devastating wildfires were determined caused by utility equipment.
The bill would allow utilities to tap into a wildfire fund of tens of billions of dollars to help pay for wildfire damages, but only if they follow certain safety steps, including tying executive pay to safety, as reported here in June. Although it won bipartisan support, some opponents liken it to a bailout, but a co-author of the bill, Sen. Bill Dodd, (D-Napa) scoffs at that characterization, "Make no mistake this is not a utility bailout, it's a ratepayer bailout."
Others questioned whether it would raise utility bills and argue it does not do enough to protect homes or manage vegetation that fuels wildfires. The only Democrat to vote against the measure, Sen. Scott Wiener (San Francisco) criticizes it as a missed opportunity to move the state away from reliance on investor-owned utilities like PG&E, Southern California Edison and San Diego Gas & Electric.
"We need to take what is a broken model right now, in terms of investor-owned utilities in California, and look toward the future," Wiener argued.
The bill is moving at lightning speed through the Legislature after being introduced less than two weeks ago. There were significant amendments made this past Friday and its first public hearing was roughly six hours before Senators cast their votes approving the bill on Monday.
"It's a little rushed," concedes Sen. John Moorlach (R-Los Angeles), who voted in favor of the bill.
Governor Gavin Newsom has put the pressure on to pass a package of wildfire bills by Friday before lawmakers take a monthlong break. Newsom also worries of a further downgrade in the credit ratings of the state's investor-owned utilities, as reported here, they have done in the past. He decries that doing nothing would be catastrophic for utility ratepayers.
"None of this is easy," Newsom states. "I think it's the best of all the options and, I think it's the one most likely to get the votes."
Proponents of the bill include The Utility Reform Network, a watchdog group and labor unions representing utility workers to wildfire survivors, who believe the bill will grant them more leverage as Pacific Gas & Electric Corp. goes through bankruptcy. The proposal now heads to the state Assembly.