Caltrans Roadwork On Highway 4, 49, 120, and 26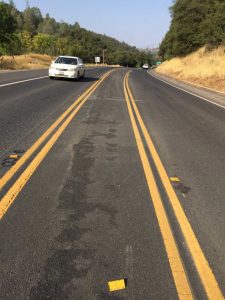 Puzzle of the Punctured Tires, temporary markers using metal Hwy 49-108 Jamestown Sept 7 2017

View Photos
In addition to removing snow as conditions allow as detailed here, Caltrans has several areas of road work  planned. The detailed scheduled work below may change due to weather, traffic, availability of equipment and other issues.
On Highway 49 from the Tuolumne and Mariposa County line ten miles to Montezuma Road Roailroad look for traffic to be limited to one-way for road striping that will cause 10 minute delays. The work is scheduled Monday through Thursday from 6 AM to 7 PM.
On Highway 49 at the Sonora Creek Bridge be aware of work on the road's shoulder. The long-term shoulder work began April 3 and is scheduled through April 30. The Caltrans crew's scheduled hours are 7 AM to 4 PM.
As reported Caltrans is ready to rumble on Highway 108 with crews installing  a center line of striping and shoulder rumble strips along a total of 27 miles on Highway 108 in Tuolumne County that will begin this week and wrap up sometime this summer. The overnight work is Sunday through Thursday from 8 PM until 6 AM. Daytime hours will be in place for the Twain Harte to Strawberry section with the hours of operation from 6 AM to 6 PM weekdays, with Friday's shift ending at 3 PM to free the roads for weekend visitors. The three locations are:
From the SR-49/SR-108 junction (Stockton Street intersection) to Draper Mine Road, about 6 miles
A half-mile west of Twain Harte Drive and Tuolumne Road North intersection to Stoddard Springs, about 12 miles
From Bald Mountain Heliport Road to a half-mile west of Herring Creek Lane in the Strawberry area, about 9 miles
As reported in the news story, Proactive Measures To Prevent Landslides, work on Highway 120 five miles east of Buck Meadows began last week and will continue this week. The hours are from 7:00 AM to 7:00 PM ending Friday at 3:00 PM. The project is expected to wrap up sometime in June. There is also drainage work scheduled on HWY 120 from Grizzley Road to Old Priest Grade Road that may cause ten-minute delays Monday to Thursday from 8 AM to 3 PM.
Also be aware that Tuolumne County will be out on local roads spraying as covered in the news story Weeds Be Gone In Tuolumne County.
Highway 4 in Calaveras on Wednesday and Thursday drainage work from the Upper Utica Powerhouse Road to Strawberry Hill Road will limit traffic to one lane. Expect delays of ten-minutes from 8 AM to 3:30 PM those two days.
Also on Highway 4 drainage work on both shoulders from Stallion Way to Angels Oaks Drive on Thursday, April 18th from 8:30 AM to 3:00 PM. The roughly fours miles of work may delay traffic for 5 minutes.
Highway 26 was reopened after nine weeks and $2 million in storm repairs. Caltrans District 10 spokesperson Warren Alford noted there may be work on HWY 26 from 7 AM until 7 PM this week, causing ten-minute delays as crews complete finishing touches under one-way traffic controls. A schedule update for HWY 26 roadwork this week, which could include shoulder work and striping, may be released Monday. Details on the project are here.
Another project that wrapped up recently was the Highway 108/120 Paving Project.