Hwy 26 Reopening After Nine Weeks Of $2 Million In Post Storm Repairs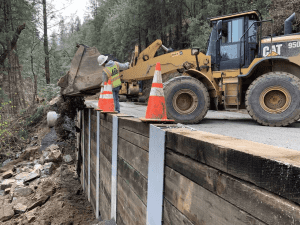 New Hwy 26 retaining wall that is part of extensive repairs necessary following Feb. 14 2019 storm that closed down the highway

View Photos
San Andreas, CA — Good news for motorists in northeastern Calaveras County who have been dealing with major delays since a winter storm event Caltrans officials are calling "The Valentine's Day Deluge."
As reported here, the Feb. 14 weather incident reportedly created multiple washouts on Highway 26. It also necessitated some temporary closures on Highways 4 and 49. Some of the Highway 26 impacts required Caltrans to completely shut down a two-and-a-half-mile section east of Glencoe between Deardorff and Woodhouse Mine roads.
The closure created a logistics havoc and a nearly one-hour detour for many; particularly those who regularly travel between Mokelumne Hill and West Point. All eastbound traffic was redirected to northbound Highway 49 and eastbound 88 while those heading west had to follow a Highway 88 and southbound 49 to 26 detour.
Caltrans District 10 spokesperson Warren Alford shares that plans are to reopen the highway at 8 p.m. Wednesday. However, he adds that from 7 a.m. until 7 p.m. for the rest of this week and perhaps for a few days next week, motorists should anticipate ten-minute delays as crews complete finishing touches under one-way traffic controls. The work includes shoulder work and striping.
Storm Repairs Delayed By Ongoing Wet Weather
While the agency originally thought the repairs would take a month, as reported here, subsequent stormy weather, the extent of repairs needed, and decisions to attend to related construction planned for later contributed to the extended work period. Alford notes that the original plan called for one-way traffic controls to be in place for a much longer time but that is no longer the case since all the work is nearly complete.
Although the final accounting is not yet available, to date, Alford says the emergency repairs have cost about $2 million and required about 10,000 work hours.
He recounts that over 20 spots along the highway required attention and that projects within the work scope involved rebuilding roadway, re-stabilizing slopes, shoring up banks and constructing two huge retaining walls held in place with 40-foot steel girders.
To view Caltrans photos of the damage and work, click into the image box slideshow.