Zinke Hears Dire Concerns Raised About Water Supply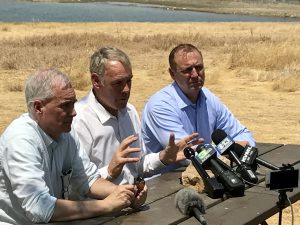 Tom McClintock, Ryan Zinke and Jeff Denham speak at Don Pedro Reservoir
Don Pedro, CA — Water is among the latest battles being fought between federal lawmakers and the State of California.
The Trump Administration's US Secretary of the Interior Ryan Zinke is in the Mother Lode today touring both Don Pedro Reservoir and New Melones.
Zinke came at the request of Congressmen Tom McClintock and Jeff Denham, who were both in attendance.
At a press conference following a morning tour at Lake Don Pedro, Denham stressed the need for not only additional above ground storage projects, but also a change in direction from the California Water Resources Control Board regarding increased water flows from regional rivers. We reported earlier that the state would like to significantly reduce the amount of water available for consumption, recreation and power supply. Denham stressed, "Look, it doesn't make any sense to spend more money on conveyance, if you have no new water to convey."
Congressman McClintock, who represents Tuolumne County, pointed to Don Pedro Reservoir, and added, "Take a look at that lake, and take a good look at it, because under that order (State Water Resources Control Board), and if it goes through, you're going to regularly see that drawn down to dead pool levels, with the water being flushed out to the ocean. That would be catastrophic for this area. For the tourism that these lakes attract and the beneficial use this water is put to."
Zinke stressed the  need to get various entities together and find a solution that is acceptable for a variety of interests.
Zinke added, "I do believe that part of the issue in this part of California is more storage, but its also how we discharge water so that it is done in a scientifically good method….some of the demise of some of the species is not just water flow….some of it has been predation…so we need to look at that too."
Both McClintock and Denham have been authoring water related bills in the US Congress. Many local leaders were invited to be a part of later events, including Tuolumne County Supervisor Randy Hanvelt and Calaveras Supervisor Dennis Mills. Mills told Clarke Broadcasting he was planning to give Zinke a letter asking that President Trump take executive action to stop the State Water Resources Board's planned action.
Click on the video box to view some of Secretary Zinke's opening comments.