Newsom Leads Cox In Latest Governor's Race Poll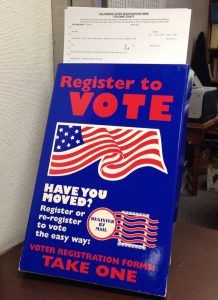 Register To Vote Sign

View Photos
In a crowded field of candidates, a new statewide poll shows 26-percent of voters surveyed support Democrat Gavin Newsom for Governor, followed by Republican John Cox with 15-percent.
The results were compiled by the Public Policy Institute of California. The state has an open primary, so the top two vote-getters in June, regardless of party, will move onto the November General Election. Cox is followed by Democrat Antonio Villaraigosa with 13-percent, Republican Travis Allen with 10-percent and Democrats John Chiang with 7-percent and Delaine Eastin with 6-percent.
The poll also found that 52-percent approve of the job Governor Jerry Brown is doing, 31-percent disapprove and 18-percent are unsure. 46-percent approve of the job of the California Legislature, 40-percent disapprove and 14-percent don't know.
You may recall from past news coverage that many of the candidates for Governor have made stops in Tuolumne County over recent years. Newsom spoke at the Sonora Opera Hall in October of 2011, Cox spoke at the Black Oak Casino Resort last August as a guest of the Tuolumne County Republican Women and Central Committee, Chiang toured Railtown 1897 in October of last year and Eastin spoke at a Tuolumne County Democratic Central Committee Dinner in Twain Harte last August.