CA Treasurer John Chiang Visits Mother Lode On Campaign For Governor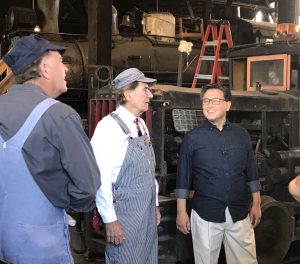 State Treasurer John Chiang Visits Railtown 1897

View Photos
Jamestown, CA — State Treasurer John Chiang says he plans to visit all of California's 58 counties as he campaigns to become the state's top elected official.
Chiang visited Railtown 1897 this morning in Jamestown for a tour of the grounds, and even a ride on Sierra #3, known as the "movie star train," featured in films like Back To The Future 3.
In a sit-down interview with Clarke Broadcasting, Chiang stated, "The railroad industry is part of the great history of California, as was pointed out by my tour guide Deter and Chief Engineer George. The locomotive industry was sort of the high tech industry way back when. It was a source of incredible innovation…changing and helping to grow the economy….you get this sense of what makes California absolutely incredible."
Chiang served on the state's Board of Equalization from 1997 to 2007, as the state's Controller from 2007-2015 and as State Treasurer since 2015. He is now among of the leading Democrats in the field hoping to replace the soon to be termed out Governor Jerry Brown.
Chiang says, "The Governor (Jerry Brown) has been incredibly solid.  He's done great work. When he came into office the state was in fiscal crisis and in my previous position as the state's Controller I had to take some really difficult action, when the former Governor (Arnold Schwarzenegger) and legislature were not passing balanced budgets. I had to issue IOU's to try to keep California from defaulting on debt. We were able to get out of defaulting on debt, our credit is now improving, and the cost of borrowing is dropping. But we have to make sure that we continue to grow California's future. We need to invest in schools because we want every child to get a world class education. We need to invest in communities so that they can provide healthcare that residents need…and Californians can enjoy these beautiful parks.
During the interview, Chiang also spoke about the need for more affordable housing in the state, saying that it is having a devastating impact on businesses that need to hire new employees.
Later today, Chiang is making stops in Oakhurst and Angels Camp.
Other Democrats in the race for Governor include Lt. Governor Gavin Newsom, former LA Mayor Antonio Villaraigosa and former State Superintendent of Schools Delaine Eastin. Republicans include Assemblyman Travis Allen and Businessman John Cox.