Republican Seeking Gov. Brown's Job Visits Mother Lode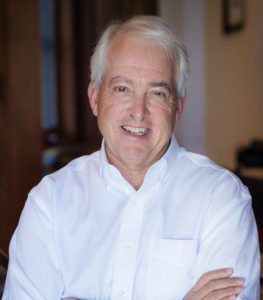 John Cox, 2018 Republican candidate for CA Governor

View Photos
Sonora, CA — Tonight, the Mother Lode hosts the second gubernatorial candidate to visit this month.
At Black Oak Casino Resort Hotel Conference Center the Tuolumne County Republican Women and Central Committee is sponsoring a free and open to the public evening from 5 to 7 with John Cox, 62, a southern California businessman who is among those seeking the Republican nomination for governor in the 2018 election.
Speaking with Clarke Broadcasting about his candidacy, Cox shares that the public is sick of corruption and has identified it as a primary issue. Having moved to the Golden State a decade ago from Illinois, he shares that his life exemplifies the American Dream, having rose from modest beginnings as the son of a single mother, who taught school on the south side of Chicago. Educated as a CPA, Cox put himself through night school to earn a law degree. A real estate investor since his twenties, he gradually accrued ownership of several thousand midwestern apartment buildings.
Cox says that after moving into the San Diego area ten years ago he was surprised to find the state more corrupt than Illinois. "That is why I am running for governor," he states in a matter-of-fact tone. Further explaining, he adds, "It is also why I think people will warm to my candidacy. I am not a politician…a celebrity…trying to do this to elevate my standing or my businesses. I am doing this because I just can't stand corruption."
Calling for 'Revolutionary' Reform
As Cox sees it, California is a Red State marked with two big blue blotches in the San Francisco and Los Angeles areas. He opines, "In those two cities especially the public sector unions, the environmental groups — a lot of these groups that raise huge amounts of money — send their minions out…to go door-to-door and pull out voters…to make sure that they vote for their candidates." Lamenting a bit, he adds. "Now, the Republican Party doesn't necessarily have the money or the army, so they have not been winning lately."
He claims that a revolutionary ballot initiative that he is sponsoring will "upset the apple cart of the corrupt fundraisers of Sacramento." Called the Neighborhood Legislature, it calls for the downsizing of districts into micro, community-sized units with local representatives to whom a working committee of 120 that goes to Sacramento becomes accountable and linked through modern IT methodology. Such a system, Cox claims, will end the need do big-dollar campaign fundraising, eliminating what he calls the stranglehold of big businesses and big labor bosses.
So far, Cox, who declared his candidacy back in March, and State Assemblymember Travis Allen, 43, of San Diego, are the prominent Republican contenders for governor.
Potential Democratic contender Delaine Eastin, 70, who has held the office of State Superintendent of Public Instruction and also served as an assemblymember, recently attended and spoke at a Tuolumne County Democratic Central Committee event in Twain Harte, as reported here. Among other Democratic contenders who have declared their intentions to run are California State Treasurer John Chiang, 55; Lt. Governor Gavin Newsom, 49; and former Los Angeles Mayor Antonio Villaraigosa, 64.