Mark Twain Hospital To Weigh Renewing Dignity Deal Vs. Adventist Health Partnership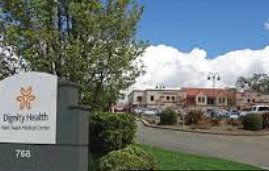 Mark Twain Medical Center

View Photos
Originally posted at 6 a.m.: San Andreas, CA — Mark Twain Health Care District officials, as they weigh the merits and charms of two suitors,  are happily touting the district is in a fortunate position.
Over the past several months — largely behind the scenes — officials and consultants have delved into careful analysis of the district's options and negotiated with long-time partner Dignity Health Care, which co-owns Mark Twain Medical Center assets with the district. MTHCD Executive Director Dr. Randy Smart has been driving the process since taking over the helm over three months ago, as reported here.
It was at the board's most recent meeting Sept. 27 when Smart was able to report that Dignity Health's completed proposal had been submitted and was now on the table. "It is a reasonable proposal that offers us choices in the future," Smart maintains, adding that the offer will remain in hold mode while the district negotiates possibilities of working with Adventist Health.
As reported here, among the options before the district regarding its lease agreement with the medical center are signing a new agreement with Dignity; going with another affiliate; running the hospital as an independent operator or through a management services agreement. This last choice is the only one that does not require securing final local approval through a voter measure.
Both Dignity, Adventist Health 'Very Interested'
Since a new lease must be in place by the end of 2019, district officials are feeling the heat to come to a decision before the end of the year so there is time to prepare a measure for the June 2018 ballot. "I can tell you that both organizations are very interested in Mark Twain Hospital," Smart confides, describing them both as "very professional, very reputable."
Enthusing, he adds, "I will tell you what I am telling employees and leadership at Mark Twain: this is the best position that you can imagine to have. Many of these small rural hospitals have nowhere to turn — I mean they have nobody to talk to — they are trying to talk to banks rather than partners. To be in a position where you have this level of competence and financial security willing to talk to you is just incredible — and if anybody out there is worried about [the future of] Mark Twain, they don't need to be."
Smart muses that ahead of its ultimate decision the board will have more to weigh than just numbers. "You want to make sure that you are not just a percentage of the books…you want to know that [affiliate partner leadership/administrators] care about you and they want this to work and understand…what rural health care is going to be like and respond to these national challenges as we need them to." Along with financial there are cultural aspects to consider as well as which affiliate might best improve upon current abilities to deliver excellent customer service.
On the other side of the equation, Smart notes are fundamental questions for the entire county of Calaveras to consider, including do residents really still want a local hospital? He has been floating that question at business and community events, wryly emphasizing, "It will not matter who runs the hospital if you don't use, care about and respect it — it is going to go away."
Public Hearing Dates, Final Decision Coming Soon
Currently, Smart projects having more meaningful details to share about the side to side proposals in a few more weeks. Whether that will be by the board's next meeting on Oct. 25 or in early November depends on the progress of negotiations with Adventist Health. He anticipates that the district will schedule public meetings to hear comments in November, perhaps vote at the Nov. 22 meeting, and then make a presentation of the district's chosen proposal to the county supervisors during a public hearing in December.
With regard to the Dignity Health option, the board received two petitions supportive of continuing the quarter-century-plus partnership at its last meeting from Mark Twain Medical Center staff; one signed by over a hundred personnel members and the other from physicians with over 20 doctors' signatures. Speaking for Dignity Health, Mark Twain Medical Center President/CEO Robert Diehl gratefully acknowledged the support.
Now, more than ever, as other rural communities across America are losing their hospitals due to financial pressures, Diehl states that his company is working to put its best foot forward as the district considers its options. "If you ask me, I feel strongly that the Mark Twain Health Care District, together with Dignity Health, can look back and take pride in the high quality modern hospital we have, the clinics, the health care services that have been delivered here."
Among beneficial provisions in recent years, he points to expansions in medical staff, new specialties and tele-medicine access as a few of the advancements that have been made. According to recent figures of unique visit statistics, Diehl shares that last year over 21,000 Calaveras residents experienced Mark Twain Medical Center/Dignity Health care in some form; either an in-patient hospitalization, an emergency or clinic visit or a surgery. Subsequently, he says, "So that means just over 47 percent of us come here — and to me that means the pressure is on us to continue to make those services available and grow and expand for decades to come."
For their part, Adventist Health officials, since they are still busily in the process of tendering their proposal, are reserving comment for now. Watch this space for more details as they become available.