Update On Railroad, South Fork and Empire Fires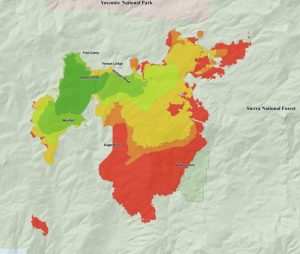 Railroad Fire

View Photos
Sierra National Forest, CA — The Railroad fire burning in the Sierra National Forest, near Yosemite National Park, is now at 10,737 acres and 23% contained. Fire activity lessened due to an increase in humidity overnight. The evacuation order of Fish Camp was lifted last night at 8 pm, however, Fish Camp may become threatened again from fire approaching from the east. Only residents will be allowed access the area and must use the route north from Wawona. Highway 41 continues to be shut down from south of Wawona to Sky Ranch Road. Yesterday's evacuation details were posted here.
Air tankers have been ordered and will support the fire as available in addition to the 835 firefighters currently assigned to the incident. There are 14 hand crews, six helicopters, 89 engines and 14 dozers. Full containment is expected by Friday, September 15. Wet or dry thunderstorms are still a possibility today within the fire area.
In Yosemite National Park the South Fork Fire burning 3/4 of a mile east of the community of Wawona is now at 7,531 acres. Additionally, the lightning ignited Empire Fire, burning 3/4 mile south of Glacier Point Road, is up to 4,914 acres. The acreage for the latter fire has increased due to more accurate mapping.  Glacier Point Road is scheduled to reopen on Tuesday, September 5, 2017, if favorable conditions continue. A high pressure system remains in place with cooler temperatures today and increased cloud cover which will limit smoke dispersion.  Thunderstorms are possible this afternoon into the early evening which may produce gusty and erratic winds.
The Summit Complex Fire information has not been updated yet, it was holding at 3,791. It consists of three fires burning on the Summit Ranger District as reported here.