Summit Complex Fires Holds At 3,791 Acres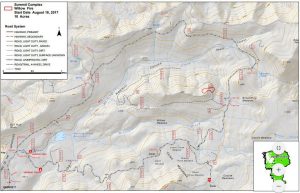 Summit Complex Willow Fires Sept 4 2017

View Photos
Sonora, CA — The lightning-generated Summit Complex trio of fires is burning with moderate activity on the Summit Ranger District. Together these wildfires are holding at 3,791 acres and are considered nine percent contained.
Stanislaus National Forest officials say that 115 personnel is assigned to the complex, which has been burning since July 31.
Of the blazes the McCormick Fire, located north of Fence Creek Road (6N06), Fence Creek Campground and Clark Fork Road (7N83) is the largest, currently sized at 3,600 acres. The 181-acre Douglas Fire is located south of the Douglas Picnic Area and Eureka Valley Campground on Highway 108. The ten-acre Willow Fire is situated west of Groundhog Meadow, bound by the 4N12 in the Hammill Canyon Loop.
Latest Related Activities, Closures
Fire officials describe fire behavior yesterday as moderate due to reduced winds, cooler temperatures and cloud cover. They add that both the Willow and Douglas incidents have showed very minimal fire behavior over the past several days. Crews will continue to monitor movement and control fire direction as road maintenance and chipping work on control lines and access for fire personnel.
Closures are in place for the following locations: Clark Fork Road and Campground and Horse Camp; Sand Flat Campground; Camp Liahona; Camp Peaceful Pines and all surrounding trailheads (Arnot Creek, Disaster Peak, Clark Fork); Fence Creek Road (Forest Road 6N06) and Campground; Wheats Meadow and County Line trailheads are also closed.
Due to the Douglas Fire visitors must remain outside of the following areas: Road 6N40Y – between 300 feet south of its intersection with the Stanislaus River Middle Fork and approximately 1.5 miles southwest; also all areas within a half-mile south and southeast of the 6N40Y road closure.