Woman Wanted For Walmart Vandalism Caught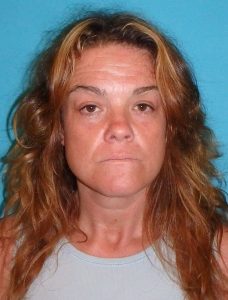 Elizabeth Cutting

View Photos
Sonora, CA – The Sonora Police Department's call for help from the public last week paid off as an anonymous tip led to the arrest of a woman wanted for vandalism at the Sonora Walmart.
A caller alerted the Sonora Police Department (SPD) just after 11:30 a.m. that 42-year-old Elizabeth Cutting was walking along West Stockton Street near the area of the Sonora Gold Lodge. An officer responded and spotted Cutting who was arrested without incident.
As reported here last week, Cutting is accused of shutting off the power through an electrical circuit box to some of the store causing over $50,000 in perishable merchandise loss. SPD had put out a picture of cutting and details of her crime to the public last Tuesday. Cutting's bail is set at $20,000.
Cutting was also arrested in March of 2016 following a traffic stop on Highway 108 near Chabroullian Lane in Jamestown after a K-9 unit sniffed out drugs, as reported here.