K-9 Drug Bust In Tuolumne County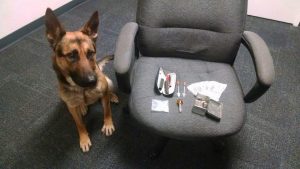 TCSD K-9 Hans with drugs

View Photos
Jamestown, CA — A K-9's keen nose nets narcotics after a routine traffic stop on Highway 108.
The drug bust happened around 10:30 p.m. Monday on the highway near Chabroullian Lane in Jamestown. A Tuolumne County Sheriff's Deputy pulled over a vehicle for a lighting equipment violation. During the stop, K-9 Hans, uncovered hidden drugs in the vehicle including a quarter ounce of methamphetamine, 1.5 grams of marijuana, prescription pills without a prescription, plastic bag packaging for narcotics sales, hypodermic needles, methamphetamine smoking pipes and $216 in cash. (Pictures of Hans' find are in the upper left-hand image box)
Arrested at the scene were 30-year-old Todd Horan of Sonora, and his passenger 40-year-old Elizabeth Cutting. Both are facing several felony drug charges. Horan remains behind bars on a $20,000 bail. Sheriff's officials report Cutting was released from the Tuolumne County Jail after posting her $20,000 bail this morning.