NTSB Preliminary Report On Fatal Calaveras Plane Crash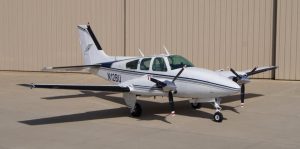 Twin Engine Beechcraft Baron 55

View Photos
Mountain Ranch, CA — The National Transportation Safety Board released its preliminary report, after an agent documented the plane crash site in the Mountain Ranch area last Wednesday. The crash took the life of former pilot instructor LeRoy Del Don, Jr. on June 9th.
Del Don was flying his personal plane, a twin engine Beechcraft Baron 55, from Del Mar Farms in Patterson to Columbia Airport and never arrived. Del Don's plane was found several days later after an extensive search. His cause of death, according to the Calaveras County Coroner, was due to injuries sustained in the airplane crash as reported here.
Below is the NTSB's preliminary report:
On June 9, 2017, at an unknown time, a Beech 95-C55, N3717Q, impact heavily forested terrain near Mountain Ranch, California. The pilot/owner operated the airplane as a 14 Code of Federal Regulations Part 91 personal flight. The pilot was fatally injured, and the airplane was destroyed. Visual meteorological conditions prevailed in the area of the accident site and no flight plan was filed. The flight departed Del Mar Farms Airport (CN99), Patterson, California, at 1355 and was destined for Columbia Airport (O22), Columbia, California.
A family concerned ALNOT (Alert Notification) was issued when the pilot did not arrive at  Columbia Airport. They estimated the flight to be about 20 minutes.
The airplane was located by the Calaveras County Sheriff's Department on June 13, 2017. The airplane came to rest inverted on a 65-degree slope, and was fragmented. The debris field extended from the top of the hill down toward a dry creek bed, with vegetation in the immediate vicinity of the empennage [Empennage is the arrangement of stabilizing surfaces at the tail of an aircraft] a brown discoloration consistent with fuel blight. The right engine remained with the main wreckage at the top of the hill. The left engine and fragments of the left wing were downhill, and the outboard two-feet of the left-wing tip were about 10 feet east of the wing and engine.
The airplane was recovered for further examination.
The NTSB's stresses that the preliminary report information is subject to change, and may contain errors. Any errors in the report will be corrected in the final report which may take one to two years or more to complete.
A public service will be held at the Skytrek Aviation office at the Modesto Airport, 825 Airport Way on June 24th from 4 to 8pm.