Budget Approved, Sonora High Focuses On Finishing Pool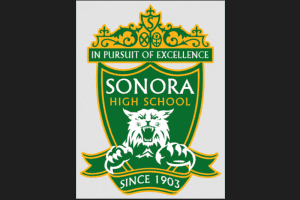 Sonora High School logo

View Photos
Sonora, CA —  With a sigh of relief now that his district has averted a potential "perfect storm" budget disaster, Sonora High's district superintendent shares an update with Clarke Broadcasting.
As previewed here, Tuolumne County Public Schools Superintendent Margie Bulkin was scheduled to visit the Sonora trustees meeting last evening where she delivered news to the board that her office had certified the district's latest budget. Her approval, which comes after months of working with the district to correct a long-standing trend of deficit spending, as reported here, came accompanied by a discussion of the challenges remaining due to a future of uncertain funding ahead.
This afternoon Sonora Superintendent Pat Chabot gratefully acknowledges the positive budget stamp and very difficult cuts it took to get it accomplished. Too, he states, "In order to meet our multi-year projections, we will continue with our conservative budget as long as we need to maintain and protect our reserves for economic uncertainties and maintain our physical solvencies."
Pool Progress Still On Track
Among the big next orders of business for the district, according to Chabot, is to finish the remaining Measure J-funded Sonora High campus improvements, which, at this point, primarily involve the new pool.
He shares, "Right now they are putting rebar [reinforcement steel] on the deck and will be pouring the deck within a couple of weeks. The building is coming right along – they are doing the final stucco coat today – and they have painted the interior of the locker rooms and are starting to install some of the equipment."
Schedule-wise, he maintains, the outlook still looks good for an opening date of August 1 or thereabouts. "Remember this winter there has been a few rain days — but as long as we do not have a May monsoon we should be doing fine."
Bottom-line Costs, Management Plans?
Chabot notes that the district will exhaust all of its Measure J funds to finish up the pool. Further explaining, he states, "We are still not yet sure if there is going to be any overage, but we have done some cost containments…value engineering already…to cut some of the costs and are looking to minimize some of the landscape [expenditures]." While the district has the ability to tap reserve development and deferred maintenance funds if necessary he indicates the district — having just gone through agonizing budget cuts — is not anxious to do that.
As earlier suggested by Bulkin, the district is developing a facilities master operations plan to be ready in time for the launch of the new pool. While the county recreation department will have use of the new facility for its programs, Chabot confides that it is entertaining additional new possibilities, such as having another organization or even the district – in an arrangement somewhat similar to Calaveras County's Bret Harte School District — take over management of the pool.
"We are looking at a variety of options. It will not be [fully] ready this summer," he points out. However, the school will run its water polo and PE classes come fall, he says, and then go from there to determine if there might be enough community involvement year round in the pool that might enable the district to hire a pool manager and have the salary be covered by usage fees.
Eyeing The Dome 
Another facility that Chabot is currently eyeing is the historic, district-owned Board of Education building, popularly referred to as the Dome Building. "We are looking at our options there," he says. Difficult to maintain and not ADA-accessible or reinforced against earthquakes, he acknowledges its significance and beauty; also noting that while the district uses only a few rooms for storage, the local public radio station KAAD operates out of a basement room and the county's arts council leases buildings for its offices, a maker lab and dance classes.
"It seems like it goes that every ten years this community does a 'what can we do with The Dome?' study, trying to figure out what is possible," Chabot remarks. Queried for his thoughts as to the property's actual current market value, he demurs, maintaining that the topic is one riddled with questions, due to its current structural limitations and that last appraisal may have been nearly two decades ago.
When asked if the district would consider selling it, he hesitates for a second before answering. "Well, yes we would – it depends on what the board wants. We have our alt-ed campus and fields up there [on the site]. I think it would be very difficult to sell just the building itself, but if we can work on it – and I am planning on working towards a committee to make a suggestion as to what we could possibly do, that is a process — and we have to go through that."